Railroad Drinking
The Boxcar, an old bar and restaurant long since closed, sits rusting just down the street from me. Someone seemed to be using a chainsaw in the course of repairing it last week, and hopefully that went well. My father-in-law went to this place about thirty years ago, but I think all that's really left of its former spirit is this fine sign: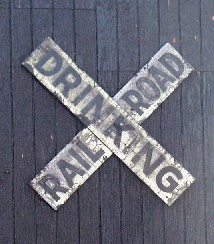 Railroad Drinking sign at the Boxcar
Of course, you're not supposed to drink when you're running a railroad any longer, but given that the front end of the restaurant is an old boxcar, this is just charming decor.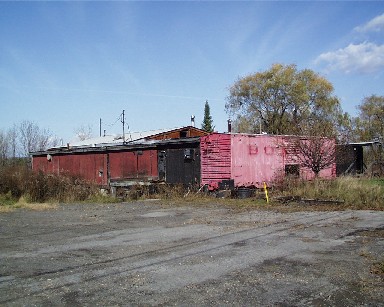 The Boxcar (map)
The Boxcar's parking lot has been very handy when we've been sealing the driveway or had a driveway full of contractors, as parking on 366 isn't much fun. I took delivery of my planer in that parking lot, since a tractor-trailer backing into my driveway would be a really bad idea. The Department of Transportation seems to use the parking lot as a staging area for road construction as well.
I have occasional visions of buying it and turning it into a very cool woodshop, but that isn't likely to happen unless I suddenly hit the lottery (I don't play). In the meantime, it's not exactly a symbol of the neighborhood's strength, but at least it's interesting.
There was a question at the Dryden Town Board debate held a few weeks ago at the Varna Community Center of what should be done with this property and the former state police station shown below, but the question wasn't too clear and didn't get answered in depth. The Boxcar site might work as a possible park-and-ride for the TCAT bus system as well, taking traffic off 366, but who knows.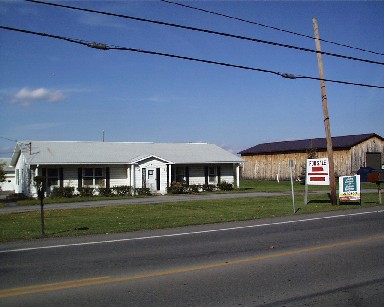 Old State Police station (map)
Posted by simon at November 10, 2003 8:50 AM in Varna , photos
Note on photos