April 20, 2021
Unnamed
I watched the AprilMarch 18th Facilities and Infrastructure Committee discussion of the Freese Road bridge. If all that someone knew about this project came from that meeting, they would conclude that the county was dealing with a town that just wouldn't accept the county's wisdom. There was not even a note of discussion about why the Town had spent so much time on this and shifted away from these County legislators' opinions.
In particular, there was a key word that never appeared in the conversation: Varna. Apparently the Freese Road bridge exists in a blank space on the map that happens to be partly run by the Town of Dryden.
Although its residents are poorer and more transient than many neighborhoods in the county, Varna is not just a blank spot on the map where the County may do as it will. The hamlet has been on maps since at least 1829. Varna has been living the impact of increasing volumes of automobiles on our roads since cars first arrived. Varna, even the parts on smaller roads, struggles daily under the noise, pollution, and danger of New York State Route 366.
A couple of decades ago, residents were startled to find that the County was proposing another major new transportation corridor through the area as part of the Northeast Subarea Transportation Study, which "could follow sparsely populated sections of Hanshaw and Freese Roads". Thankfully NESTS was basically rejected, though unfortunately its recommendations seem to keep happening in smaller pieces.
A decade later, the County did a Route 13/366 Corridor Study. Residents were eager to hear that the County was taking traffic seriously. This turned out, though, to be mostly a study of development possibilities, including my personal favorite, a map that suggested putting a driveway through my house and building dense apartments on the steep slopes above.
This latest conversation began with the Town, which started out with the same terrible traffic-encouraging ideas that the County F&I committee wants to inflict on Varna. Years of slow and frustrating work by Varna residents, other Town residents, the Town government, and lots of other parties finally brought things to a workable compromise.
I know the F&I committee is very aware of those conversations, but doesn't acknowledge any of it. This is unacceptable. Varna is not an empty zone awaiting the wisdom of county legislators, planners, and highway folk. The County is made up of people living in neighborhoods. The County should recognize and listen to them.
December 21, 2018
About that sign
As visitors come into the Town of Dryden, they are greeted by signs. Most say "Town of Dryden". Some have an additional "Right to Farm" sign and others add "Since 1797". One sign is different, and has been for a year now. When you approach Dryden from the Town of Ithaca on Route 366, the Town of Dryden sign is missing. In its place, someone put a sign for Perchn.com, the student housing website.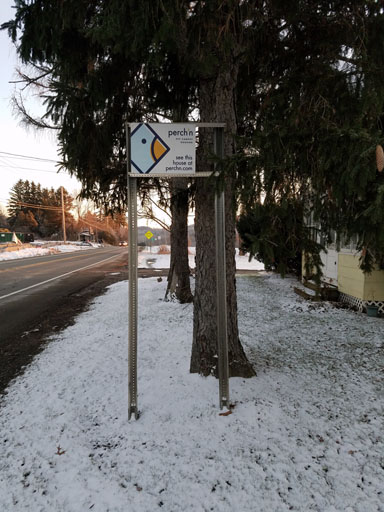 Sign on Route 366, Varna (Perch'n).
While I would like the Town to fix that, it is unfortunately an accurate portrayal of the Town's attitude toward Varna. The Town Board, despite past claims of award-winning planning, doesn't protect Varna. Remember those "We [heart] Varna" stickers of a decade ago, when the Town was trying to convince hamlet residents it cared about their input?
Lately, the Town seems eager to shred those plans. The escape hatches – Planned Unit Development, Special Use Permit, unexpected state bridge grant with bizarre limitations – are open and the Town is rebuilding Varna for maximum property taxes, and placing zero value on community. Huge privatized dormitories make money faster, and their residents need to be able to get everywhere quickly. They won't, of course, generate any traffic, but we should definitely rebuild the roads for those rare moments when they want to go to the mall.
Making this even uglier is the slowdown in student housing demand. Cornell finally recognized that adding thousands of students without adding their own housing creates some gaps in the student experience, not to mention creating a bubble in local housing prices. I have a hard time imagining this dormitory thriving, given its distance from most of Cornell and its completely student-centric design. Varna has done well with vet students, but there aren't that many of them. One thing that could be worse for the neighborhood than Trinitas succeeding would be Trinitas building this and failing.
Varna is not, of course, the only part of Town to feel burned by the Board's fondness for big projects, but we seem to be getting the heftiest dose of them. Slow down, and listen to the neighborhood instead of developer dreams. Fix the sign when you remember that Varna is something more than the Collegetown East colony of Dryden.
December 5, 2018
Three Welcomes to Dryden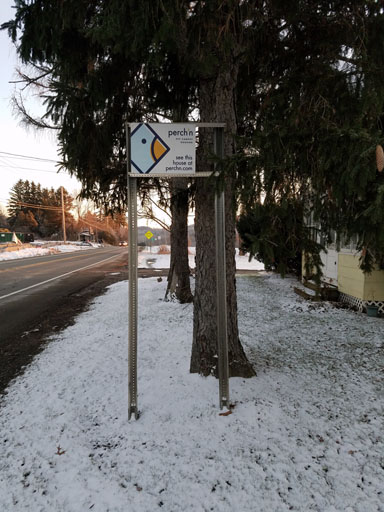 Sign on Route 366, Varna (Perch'n).
The Right to Farm sign is a recent addition. The Perch'n sign has been there since at least January, when I took a picture, but I think months before that.
September 14, 2018
May 25, 2018
February 16, 2018
March 10, 2015
February 14, 2015
January 31, 2015
January 30, 2015
December 17, 2014
November 25, 2014
November 4, 2014
November 3, 2014
October 31, 2014