March 5, 2013
Dryden Community Garden sign-up and meeting
Our monthly Grow Your Own! class/meeting will be the first Wednesday of the month at 6:00pm this year. No more third Tuesday classes. Still at Dryden Community Center Cafe. The next one is important, it's our big deal garden plot sign-up and recruitment event. March 6, Wednesday, 6 pm, at the cafe. We'll have membership forms, all the info for the new year, we'll make plans for spring, maybe set up the season's scheduled work days, all that kind of thing. And we'll have some light snacks and tea as usual.
March 7, 2013
What would signal a change on hydrofracking policy?
I disappointed Angelika last night with my lack of enthusiasm about the New York State Assembly's 103-40 vote in favor of a two-year moratorium on hydrofracking. Why would I find something that seems so encouraging to be largely useless?
First, because the Assembly is severely gerrymandered in favor of the Democrats. That 103-40 has pretty much nothing to do with opinion across the state, which is split. It all has to do with the way they draw the lines.
Second, because the leadership has so much control in our legislature. I'll have to look at the details of who voted for and against, but I'll be surprised to see large numbers of legislators bucking their party on this.
Third, it's completely a dog bites man story. There is no surprise here - the Assembly has generally opposed hydrofracking since they woke up to what it was. The harder questions are, and have been, the Senate and the Governor.
The Senate is also severely gerrymandered. The deal since 1970 has been that the Republicans gerrymander the Senate and the Democrats gerrymander the Assembly.
However, the Senate is also severely split, because Republicans generally aren't doing very well in New York State, and because the Democrats did such an astoundingly lousy job last time they were in power that the caucus broke in two. The Independent Democratic Conference, which currently shares power with the Republicans, is in favor of a moratorium, though it's not clear if it's an identical proposal. (Language about health studies seems softer.)
If the Senate votes for a moratorium, especially for a strong moratorium, then the landscape has changed. If the Governor signs such a bill, then the reality has changed.
I would love to see a moratorium. However, we shouldn't take this vote as anything more than a sign that the house that has wanted one for a long time thought it was a good time to put it up for a visible vote. At best, this is a sign of possible change to come, not a massive shift in momentum.
(And no, I don't buy the RFK-converting-Cuomo story either. Albany politics is broken enough without that kind of celebrity superpower, and there's nothing that suggests to me that RFK's personal intervention was necessary.)
March 15, 2013
Saving energy on Irish Settlement Road
Saturday morning, 10am, 812 Irish Settlement Road - come learn about ways to tighten up a house, save money, and make space more usable. Here's a great preview.
March 19, 2013
Village of Dryden election today, Noon - 9pm
Polls are open today in Dryden Village Hall, 16 South Streeet, from noon to 9pm.
I haven't been around to cover it, but this year has seen a much more vigorous race than usual. For mayor, Democrat James Zimmer is challenging Republican incumbent Randy Sterling. Democrats Mike Murphy and Lisa Valentinelli are running against Republicans Daniel Wakeman and Paul Rachetta for two-year Trustee terms. There's a one-year term open as well, with Democrat Mary Ellen Bossack running against Republican Mike Hattery.
You can get a rough sense of what the race is about from the candidates' replies to the Dryden Courier and this piece in Tompkins Weekly.
If you live in the Village of Dryden, get out and vote, despite the slushy weather!
Looks like a Democratic village board
It's within the range of the 23 absentee ballots, but it looks like the Village of Dryden has likely elected its first Democratic mayor and board in a long while.
The machine totals tonight were:
| | |
| --- | --- |
| Mayor: | |
| James Zimmer (D) | 194 |
| Randy Sterling (R) | 179 |
| | |
| --- | --- |
| 2-year Trustee: | |
| Lisa Valentinelli (D) | 196 |
| Michael Murphy (D) | 193 |
| Daniel Wakeman (R) | 170 |
| Paul Rachetta (R) | 166 |
| | |
| --- | --- |
| 1-year Trustee: | |
| Michael Hattery (R) | 190 |
| Mary Ellen Bossack (D) | 179 |
Village of Dryden absentee ballots tend to lean more Republican than the regular results, so we'll see. More on that to come!
March 29, 2013
Finally, some hope for Mount Varna?
Well, that was unusual. I went to a Town meeting and came back with some hope that the perpetual eyesore at the intersection of Route 366 and Freese Road in Varna might finally be improving. Perhaps its going up for sale was the best thing that could have happened to it.
The Planning Board had a sketch plan meeting with Todd Fox, who wants to develop the property, and Noah Demarest, landscape architect, of STREAM collaborative. While I worry about the usual distance between an architect's rendering and the resulting construction reality, the sketch plan and the meeting finally gave me hope that someone is showing some care to that corner.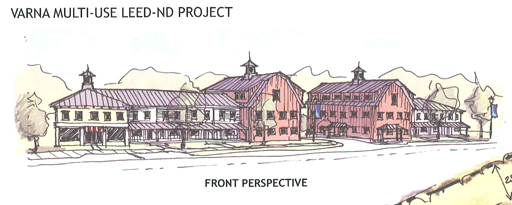 Sketch of a possible future at the corner of 366 and Freese Road, with possible commercial development on the left (western) edge.
It is only a concept sketch, and it's the sketch that came to the meeting, not out of the meeting. However, it is a vast improvement on prior proposals for a tow pound and even on the mostly flat prefab apartment housing earlier proposed to the Town.
(You can also see the Planning Department's questions going into the meeting, which I think were all addressed adequately in the meeting.)
The builder, Todd Fox, is aiming for a basic LEED-ND certification. That fit neatly with the Town's design guidelines, but combined with the strange topography of the site and a covenant blocking development of its eastern edge to create some puzzles for parking. This plan in the sketch would create 20 residential units, plus 3500 square feet of commercial space, 1750 of it on the ground floor. (Another 1750 square feet could be created in a third floor.) The recurring question was whether there was enough parking to sustain the commercial space at that location, and the Planning Board concluded that commercial space there would be nice but was optional.
(I would love to see some new commercial space in that area to replace the sadly neglected buildings in the area, but agree that it will be much much easier to do on the other side of Route 366, which is already an enormous parking lot.)
Much of the discussion was about on-street parking and a bus pull-off, and what could work at that intersection with its restricted sight lines. It seems like a few spaces might be possible, but it's less clear if its a good idea. The next phase, site plan review, will explore that more deeply with an engineering study, contour map and more.
One thing I liked was their plans to modify the contours of the current plateau, making it so that the driveway in went down. That allowed parking underneath the buildings, and I suspect will both make it feel more like a home to its residents and ease the looming feeling of the strange fill structure.
A few Planning Board members asked about car and pedestrian access from Freese Road or sidewalks there. That will likely depend on how the contours of the site work out, and they also discussed shifting some sidewalk construction to Freese Road instead of going to nowhere on the eastern edge. There was also some discussion of bike racks, especially if the commercial development is built.
Stormwater, which has been a recurring problem for the plateau, would be addressed with a bio-retention and filtration system, more commonly known as a rain garden. The edges of the fill would be planted with more permanent vegetation to hold it in place.
Overall, I was a lot happier than I expected to be. After the abuse this site has suffered from previous owners, it's good to see someone demonstrate some care. This isn't close to done, and there is a long distance between plans and the final product, but this seems to be heading the right direction for once!
Update: A comment from Facebook: "You forget to mention that the barn-inspired architecture sets a harmonious note with the transect to a rural visual impression. While simultaneously providing the kind of affordable building construction options that, combined with basic energy-saving development planning, will make it possible to support commercial entities locating in such a relatively low-traffic location. Good design, nice to hear about it, thanks."
Does Freese Road need a much bigger bridge?
Update:
It sounds like the rush to expand the bridge has paused. It fell off the request for funding, and it's not clear that it would have to be built out to two lanes even if the grant were approved. Nonetheless, this is definitely worth keeping an eye on. I'll try to get a copy of the NESTS study with figures to tell the story on which this application was based.
No.
On its north side, Freese winds through a 15mph and a 10mph curve that are not much fun in winter. Its southern terminus, where it meets Route 366 and Mount Pleasant Road, is an accident-prone intersection with terrible sightlines. The Town of Dryden is pondering further traffic-calming measures there, including a roundabout.
Somehow, though, I see a proposal to widen it to two lanes (1.7MB PDF) is going to the state, as a new project requesting federal Transportation Improvement Program (TIP) highway funds.
The bridge was closed for repairs in 2004, but apparently that wasn't an exciting enough project. Now, citing a 1999 study that wasn't warmly received (figures missing, so hard to read), we suddenly have a proposal for a major expansion.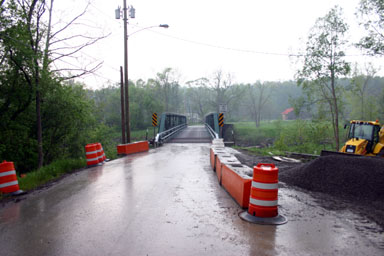 Bridge open at Freese Road, 2004
They do plan to talk to the public eventually - page 4 states that "The neighboring community (hamlet of Varna) is very active concerning traffic and transportation planning and a great deal of public involvement is expected." However, "Public involvement will be encouraged by holding a series of public meetings during preliminary design", which suggests that there won't be a public opportunity to just say that this is a ridiculous idea that should not happen, period.
In related excitement, the county has historically paid for bridge repairs while the towns handle the roads. Not here, though - "The Town of Dryden would be asked to fund approximately 20% of the local share." The "local share" is 20% of the $3,275,000 project, so that's $131,000 piled into the Town of Dryden's highway budget.
People wonder why I don't trust the Tompkins County Highway Department. I wonder why they wonder.