Lifton community forum in Cortlandville
I worry that I may be a werewolf. Or something similar. There's no fur, there aren't any extra fangs or even howling, but listening to state legislators argue that New York State government - or at least their house of it - runs just perfectly well punches my adrenaline to new highs and makes it hard not to sputter. I may be a pacifist, but that doesn't mean I'm always nice.
So, okay, here are the highlights of Assemblywoman Barbara Lifton's presentation this afternoon at the Cortlandville Fire Hall:
The new budget offers both more funding for schools and more accountability for education results, including accountability for state agencies.

In higher education, Lifton was happy to see increases for SUNY and the community colleges, though the state share per student at community colleges is still less than the 1/3 of costs it's supposed to be. She's also concerned about some line items for Cornell being lumped together as things to go out for RFPs (Requests for Proposals).

She's pleased with the appointment of a separate "economic development czar" for upstate who'll be based in Albany Buffalo. She's hoping that he'll build on a plan that Richard Florida developed for the Assembly, though hearing the name Richard Florida generally makes me groan.

In health care, she's concerned about Governor Spitzer's $1 billion in Medicaid cuts, but happy with his plans to expand coverage for all uninsured children and many uninsured adults, as well as more help in mental health.

Funding to small cities is up, but the CHIPS program for highway spending is down. Lifton wants to see more money spent on both.

She's unhappy with the STAR property tax relief program because it directs money to places that don't necessarily need it. Schools in the bottom 10% of income receive $918 for the $2300 that schools between the 80% and 90% mark get.

Attendees brought concerns about foreign students attending TC3 and bilingual education in Syracuse, as well as general stories of people collecting benefits who shouldn't be getting them.

Lifton was happy about the recently announced worker's comp deal, but less certain about the deal on continuing detention and supervision of sex offenders.

One attendee had questions about further help to the parts of Cortland (and elsewhere) that were flooded last year.
Mostly it went pretty quietly, though when she started talking about the great good that member items do without talking much about where the money came from, I wasn't very happy. She defended the pool handed out by the leadership as a way to avoid the Governor's line-item vetos, and pretty much argued that the new system for member items should be much better and cleaner. Not that there was any corruption or, say, abuse by the leadership, under the old system. I asked if the money she'd brought to Cortland previously was borrowed - Dormitory Authority - money, and indeed, at least $100,000 of it was, though some of it seems to be real tax dollars.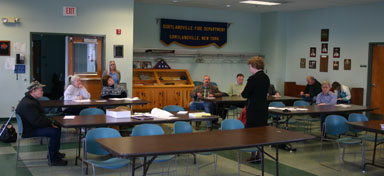 Assemblywoman Lifton talks with constituents.
Another attendee said that there was "no political will to fix New York" and suggested that "she could take on Sheldon Silver in a fair fight." Lifton displayed no interest in challenging the Speaker, arguing that he represents the caucus and that a new leader would be much the same. (So long as the levers of power in Albany stay the same, I fear she's right - any replacement will fill the same role. It's not just Sheldon Silver or Joe Bruno - it's an entire culture of government.)
I asked about redistricting, and she said she'll be having a forum on it in the fall, including Assemblyman William Parment, who apparently supervised it for the Assembly last time around. (Producing a remarkably gerrymandered map, at that.) Something to look forward to, I guess.
I don't have much hope of Lifton ever challenging the leadership, or recognizing that there are good reasons why New Yorkers rarely place great hopes in their legislature. If it wasn't for the fundamentally broken state of New York government, we might get along, but for now, we won't.
Turnout was fairly minimal - six people at the start, building up to twelve by the end. It was definitely a Cortland crowd, which was good to see too.
(Cross-posted at The Albany Project.)