Dryden residents march for peace
This morning's Ithaca Journal reports on Saturday's march for peace. I joined about thirty people marching from Belle Sherman down to the Commons, many of whom had carpooled from the Village of Dryden or walked in from Snyder Hill and Ellis Hollow. (Freeville residents also carpooled in, going to Ithaca High School and marching from there.)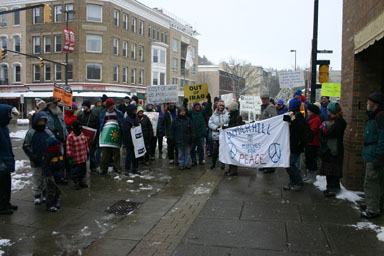 Snyder Hill marchers arrive on the Commons.
County Legislator Martha Robertson was among those who spoke, detailing the impact of the war on the county, including the finances, the opportunities lost, and the soldiers who have died in Iraq.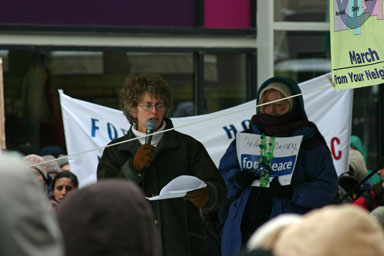 County Legislator Martha Robertson speaks to the rally.
The Journal quotes a Dryden resident:
"Nothing we've done has been for helping the Iraqi people," said Mike Pitzrick of Dryden.

Pitzrick acknowledged that it is a difficult subject, but that the country's involvement was for all the wrong reasons.
Dryden resident Katie Quinn-Jacobs article following some Dryden residents up on the organizers' site as well, and I've posted a pile of photographs from the day you're welcome to explore.
Elsewhere in the Journal, they note the crazy weekend snow, suggest that the New York State Senate is now 'Bizarro World', even as they're losing support. Oh - this just in - lobbying in New York State continues to climb to new and amazing heights. (Or is that depths?)
Posted by simon at March 19, 2007 12:35 PM in Ithaca Journal , politics (national) , politics (state) , weather
Note on photos