Bandfest (and crepes) in Varna 8/23
VARNA BAND FEST

WHAT: A showcase of talented musicians from the hamlet of Varna:

Gabe Tavares (indie/alternative rock)
See Horse Run (Americana/folk)
Symphony of the End (melodic metal)

Each band will play a 45 minute set.

WHEN: Saturday August 23 starting at 8pm

WHERE: Varna Community Center, 943 Dryden Rd. (NY Rte. 366)

DETAILS: Admission is $5 per teen and adult. Children are welcome, but must be accompanied by an adult. The "Collegetown Crepes" food truck will be onsite during the evening. This new business plans to sell tasty crepes after-hours in Collegetown starting in September, but they are launching their business at the Varna Band Fest. You can be one of their first customers!

The Varna Band Fest is hosted by the Varna Community Association & supported by a grant from the Town of Dryden.
Sold sign at Saunders Greenhouse
This could be great, fine, or terrible for our immediate neighborhood. I guess we'll see.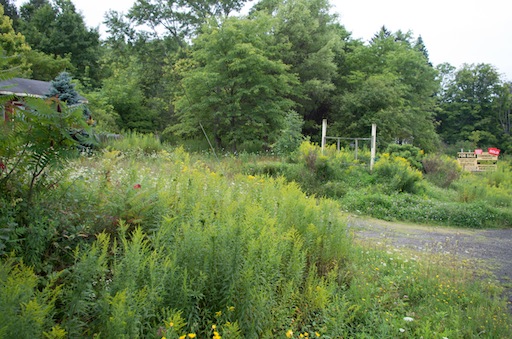 Sign and a bit of the former store.
(And yes, we have property adjacent to that parcel. I keep hearing about damage done to other people's properties by trespassing development folks, not to mention previous concerns from neighbors about past issues with drainage coming from that property, so I'm feeling cautious. Hopefully I don't need to be.)