Living in (more of) Dryden
When I first moved into this house, eleven years ago, I really loved how it was set between the woods and the road. About a year later I realized that the same people who had sold me this house owned the woods, and that I should have asked them about buying a piece of it. Before I could contact them, though, they sold that long strange piece of land to someone else, who built a house at the very top of it. It was still nice to see the woods, but...
A few years later, after learning that we had a friend in common, I contacted the folks up the hill, leaving them some blueberries I'd picked near the property line. We talked, and looked at the woods, but nothing came of it again until this year.
As of Thursday, I now own a chunk of that large parcel, 5.46 acres going up the hill behind my house and two other houses to my east. We extended the top of the Saunders Greenhouse property line on the east to its intersection with the Parke-Dabes Natural Area (Town land) to the west.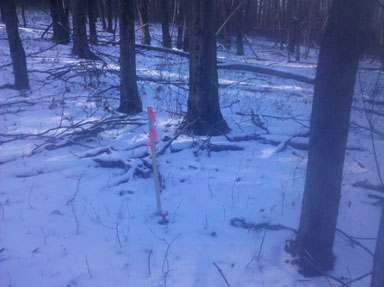 One new survey pin. (Sorry, cellphone picture.)
We're not planning to do anything likely to bother our neighbors. Apart from the no dwellings and no voluntary hydrofracking restrictions on the deed, we're not especially eager to tear down the forest in any case.
Plans include:
Mapping the property in a lot more detail

Marking some trails.

Replacing invasive shrubs (mostly honeysuckle and privet) with natives (like northern spicebush, witch hazel, and assorted viburnums)

Adding more productive plants, notably deer-resistant currants and gooseberries.
There will be more here as we (slowly) get to these projects.
There are a few complications as well, of course. Our house is in the Ithaca City School District, while that land is in the Dryden Central School District, so the parcels have to stay separate. Of course, the forest is also in the Turkey Hill Water and Sewer Districts, so that will bring extra taxes for services we plan never to use there. Overall, though, we decided the complications were worth it.
Thanks to Gene Madsen and Jane Walker for selling us the land, to David Weinstein for telling me I should talk with Gene, and to Mike Lane for handling our side of the transaction. From me personally, thanks to Angelika for her saving ways and my parents for their continuing support of strange projects their son gets into.
Hopefully Konrad and Sungiva will enjoy their large new play area over the next few years.
Posted by simon at December 20, 2010 3:57 PM in my house
Note on photos