Freeville Harvest Festival, Ellis Hollow Fair
The Saturday after Labor Day is always a busy day in Dryden. I was worried Friday night about rain, but the rain came overnight, leaving the Freeville and Ellis Hollow events with a gray but dry day.
After buying a Veg-O-Matic, complete with instructions and original April 1974 receipt, at the Etna Community Center's rummage sale, Angelika and Sungiva and I visited the Freeville Harvest Festival. Sungiva explored a slide and had a fun time wandering around, while Angelika and I focused more tightly on the chili cook-off and the desserts table.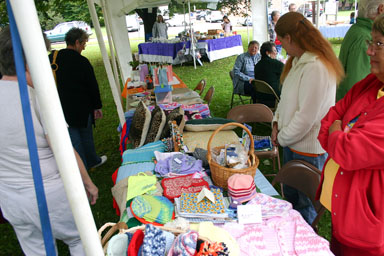 Busy crafts table at Freeville Harvest Festival.
We enjoyed the festival as always, and I've posted a gallery of photos so you can see more.
Next up was the Ellis Hollow Fair, which was just getting started. After checking in at the Dryden Democrats' voter registration booth, I wandered around the fair for a while taking pictures and talking with people.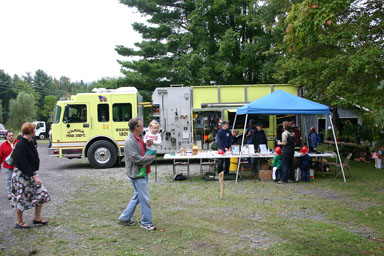 Arriving at the Ellis Hollow Fair.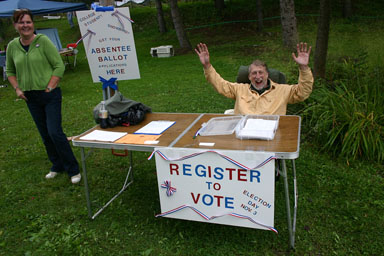 Jim Skaley is excited about voter registration.
I spent much of my time at the fair helping out in the Country Kitchen, serving hot dogs, hamburgers, and sausages. I'm happy to report that all four candidates for Dryden Town Board - myself, Deb Shigley, Steve Stelick, and Jason Leifer - worked there for a few hours. We all got along, serving lots of customers tasty food with minimal delays. The County Health Inspector came by at one point, and the Country Kitchen passed the test. I think customers were happy too!
I've also posted a gallery of photos for the Ellis Hollow Fair.