Foundation Repair, Part IV: Sill Beam Replacement
Once the crumbling concrete was repaired, it was time to move on to replacing the rotted sill beam. While the masons had been able to work in small sections, relying on what remained of the beam to hold things up, removing the beam itself meant that the floor joists and wall posts would be floating. That required adding support for both before actually tackling the beam.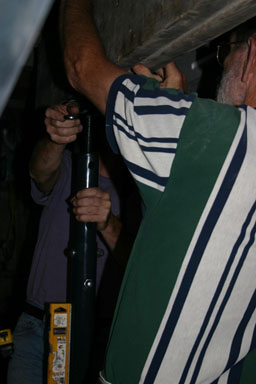 Dan and Cordell install a jack under the floors.
The beam itself was next, but as they chopped out pieces, they also reinforced the concrete block by pouring concrete down into it.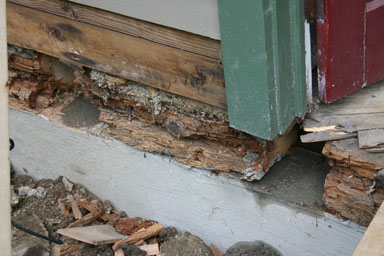 Removing the beam, adding concrete.
As the beam came out in sections, they added new 8x8 pressure-treated beams. The old pine beams - originally barn beams - had lasted 80 years in that moist environment, and hopefully these will last even longer. Hammering the new beams in was a challenge at times, but went faster as they moved along.
They attached the joists to the new beam with metal hangers instead of the diagonal nails that were originally there. The previous sill beam just rested on the foundation, without any attachment. The new beam also got foundation plates to connect it. I'm not sure they're necessary, but they seem to be standard practice now. The other final touch they added to the beam was insulation, replacing the layer of isocyanate that our earlier energy efficiency work had put in with a slightly larger piece that sealed the gap between the beam and the foundation.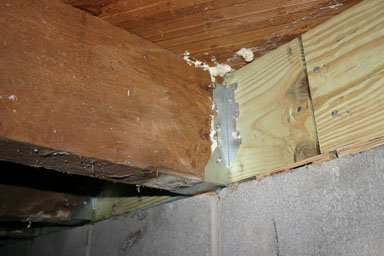 Attaching the floor joists to the beam.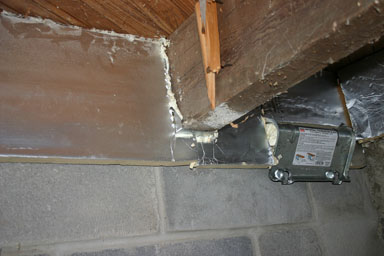 Insulation and foundation plate.
The pictures above are just a sketch of the work, really - I've posted a beam replacement gallery that shows more.
The structure was now complete, but there was still trim work and a door replacement to come.
if you want to see the work all the way through, here are links to the full set of stories:
Posted by simon at October 13, 2009 7:24 AM in my house
Note on photos