Neptune Hose Company Open House
On Sunday afternoon, we took Sungiva to see the fire trucks! At 18 months, I'm not sure she quite knows how exciting they are, but it's never too soon to get started.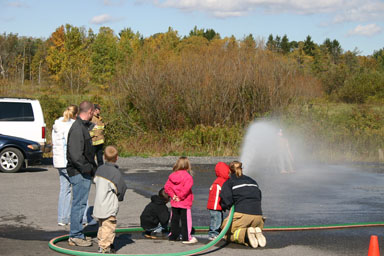 Spraying water from a fire hose.
They had fire-fighting activities for kids, as well as information, equipment, and exhibits inside. The Freeville Fire Department was also there, adding to the fun, and Dryden Ambulance had an ambulance set up to look inside. The rides on the ladder truck outside were especially popular.
It was a fun time on a beautiful day. If you'd like to see a lot more, I've posted a gallery of the open house.
Posted by simon at October 13, 2009 12:09 PM in Village of Dryden , emergency services
Note on photos