100 pounds, Cortland to Ithaca, for a quarter
Most of what I've posted on the Elmira, Cortland, & Northern comes from David Marcham's The Ups & Downs of a Rural Line: Elmira, Cortland & Northern RR - 1867 to 1967 and On, but I've also watched for (and pretty much not found) other sources of information.
This week, I was delighted to open the mail and find this amazing bit of history from Mike Lane: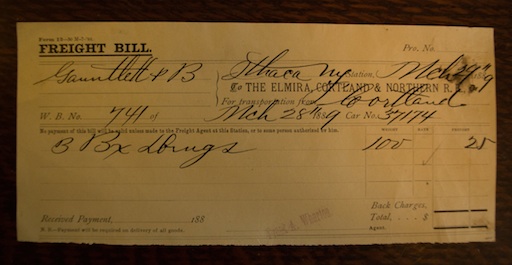 Freight Bill, Elmira, Cortland, & Northern, 1889
It's a bill for 100 pounds of freight, I think a box of drugs, moved from Cortland to Ithaca. It would have passed through McLean, Freeville, Etna, and Varna on its way there, on the line whose bed is on the opposite side of 366 from me. The fee was a staggering quarter - a substantial sum of money in 1889, but still seeming to me like a bargain given the headaches of shoving 100 pounds around.
Mike thinks this came from a box of papers from a Brooks' Drugs in Ithaca, though the bill itself isn't clear. In any case, it's wonderful to see a tangible piece of our past, a piece of a kind often thrown out.