Former Mount Varna for sale
The former Mount Varna site at the corner of Route 366 (Dryden Road), Freese Road, and Mount Pleasant Road is for sale.
I have an unpleasant history with the owners, so I think I'll let the photos and transcript tell the story by themselves.
That original site was more like two acres, so I'm pretty certain that the five acres includes the land below the fill, heading toward Fall Creek on the east side of Freese Road.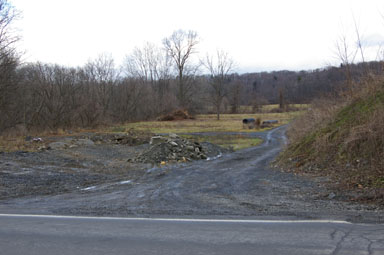 Varna holiday party, Saturday December 15th, 1:00pm to 3:00pm.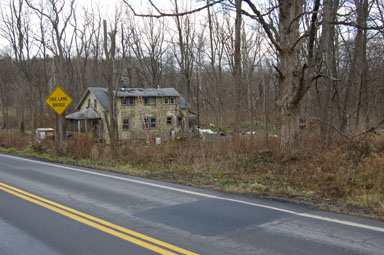 Current house, also part of the five acres.
There is more to the story, of course. From the minutes of the December 20, 2012 Dryden Town Board meeting (Word file), here's the owners' version of how their efforts to do good have been thwarted at every turn:
Nick Bellisario and Otis Phillips said they are not real happy with the zoning change and reviewed the history of what they've been through with their property at the corner of Route 366 & Freese Road.

The purchased it in 2004 with a material storage special permit (transferred to them) and they cleaned up the site. They started filling the site and had to control the water that belongs to the state, town and neighbors that should have continued down the road. They had to take fences down that were part of the special permit and remove some trees in order to fill. Their special permit was revoked, and the town didn't give them a second chance. Every step of the way they were given problems.

H Slater made them do a full stormwater management plan and they thought they only needed a silt fence. They had to put in a retention pond that was later filled in. They did not do some of the things they were supposed to do, and were subject to weekly inspection at $150 per week. They were fined $8,000 for vehicles on the property. It seems they are not allowed to do anything on that lot.

They tried some development things. The Planning Department said to try townhouses, and wanted a site plan and stormwater plan and they paid $5,000 for that. Then there was a problem with the size of the lot that would cause them to go to site plan review. Site plan review didn't happen because it was too costly.

This summer they wanted to try for a material storage yard and tow yard. They were told by the Planning Department it was okay. Then after submission of the paperwork, they were told a material storage yard was not an allowed use anymore. They tried the tow yard and were told to try a smaller version. They never received a call back from the Planning Department, and now they've been told a tow yard is not an allowed use in the new zoning.

N Bellisario said they have asked several people in the Planning Department, and there seems to be a lot of confusion about the old law and new law. It seems that they've been blocked every step of the way. They bought the lot for what was an allowed use. That corner wouldn't be in the development plan if they hadn't filled it, yet everyone fought them on the fill.

They get the feeling that the zoning is being developed to prevent them from using their property. Their plan would not have lowered anyone's property values. They have a trailer park across the street (with an unrepaired trailer in it), and an auto repair shop and Laundromat and parking lot across the other road. Their investment goes down and their assessment goes up.

Cl Lavine said it seems the property would be good for housing, and N Bellisario said they lost their investor for that. That doesn't fit their needs, but they were willing to give it a try.

Supv Sumner said it seems there has been a lot of misunderstanding and she will arrange a meeting with Planning Department and a few board members.

N Bellisario said he is totally against the new zoning. No one will invest in sidewalks, or clear them after they are covered by a snowplow. It's unrealistic. A lot of the people in favor of this planning don't even live on that road. They are ready to sell the lot and will look at getting their taxes reduced. [Paragraph breaks added. There's more in the minutes.]
Perhaps it will find owners who will care for it.
If you're interested in seeing more, I've posted a brief gallery of its current state, all taken from safely across the road.