Historical Society now owns Southworth Homestead
A landmark of Dryden architecture, built by John Southworth, is now formally in the hands of the Dryden Town Historical Society. I'd mentioned it earlier when the Ithaca Journal did an article, but it's good to see the transfer happen.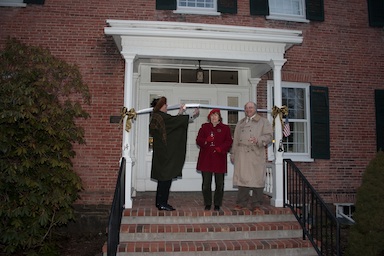 DTHS President Betsy Cleveland cuts the opening ribbon for the Southworth House, as Betsy Van Sickle and Mike Lane look on.
Sara Rebecca "Becky" Southworth Simpson left the house and its many contents to the Historical Society, on condition that the DTHS establish an office there. She had been active in the founding of the organization, and always interested in the history of her house, built by John Southworth in 1836. Her niece Betsy Van Sickle was there to celebrate the transfer, along with a small group of DTHS trustees and executor Mike Lane.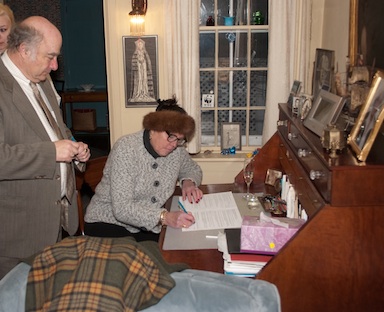 At John Southworth's desk, DTHS President Betsy Cleveland signs papers needed for the transfer.
A sign is in the works, and the Historical Society will be having a more public celebration of their new home sometime later this year.
It's an amazing building, and I'd never seen the inside before yesterday. It's always felt like a calm spot separating the Village Green by the churches from the commercial zone on North Road, and it's wonderful inside as well.