Town Board meets with fire companies
Last night's special Town Board meeting on fire department issues was more like an informal get-together than a formal meeting. Instead of the usual board at a front table facing an audience, there was a circle of tables, with the board mostly in one corner and everyone else spread around.
Apart from the Board and the Town Clerk, there were about twenty people from fire departments, an Ithaca Journal reporter, a WHCU reporter, and myself. The Varna, Etna, Dryden, Freeville, McLean, and Brooktondale departments were all represented, and there was also talk of Slaterville Springs and their ambulance service.
Town Supervisor Steve Trumbull opened the meeting with a brief statement about "putting negativity behind us", and then Town Councilman Marty Christofferson talked about the need for more open communications. Dana Abbey, President of the Board of Directors of Neptune Hose Company, suggested that this meeting itself meant open communications were already getting started.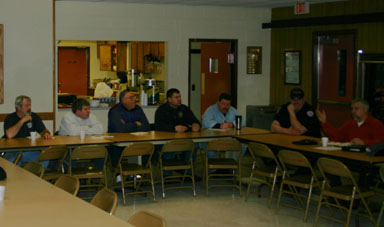 Marty Christofferson addresses firefighters
There was a lot of discussion about how the Board should deal with the fire companies - as a board, as a subcommittee, with individual companies, with the chiefs' group. There were a few suggestions about creating a new committee to coordinate between the Town Board and the fire companies, but it seemed that consensus was that the current structures were starting to work. As Natan Huffman of the Varna Volunteer Fire Company put it, "all of us are in this not to go to meetings - we want to fight fires."
Process issues aside, there seem to be a number of substantive issues that need to be dealt with. Contracts for the fire companies aren't settled yet, and the fire departments were concerned that the quarterly payments model from the previous years' contracts was still going to be in the contract. Councilman Chris Michaels defended the quarterly payments - actually 50% in the first payment and three equal payments after that - as a means of ensuring compliance with the contract. There was concern that compliance was just paperwork thrown into a cardboard box, but Councilman Michaels and Councilman Steve Stelick assured those present that they did in fact read it, found it useful, and hoped to be able to use some of it in efforts to honor volunteers. It sounds like the board will approve the contracts at the next meeting as a first step, and will still listen for feedback from the fire companies on how they like the contract terms.
The largest issues seemed to revolve around planning for capital costs, notably trucks. Coordinating purchases between departments - whether Varna might need an $800,000 ladder truck was the common question - seemed to be a tough issue. Board members, notably Christofferson, suggested that it would be helpful to bring together the departments to discuss these kinds of long-term planning issues, but there was a general reluctance among the fire companies to find themselves in a position where they were questioning each other's judgment. How to invest funds for capital equipment, either by establishing how companies should manage their investments or possibly by centralizing such funds in the town or the Dryden Fire Protection District was another question, though the preference seemed to be to leave the funds with the companies as is currently done. While both the board and the fire companies sounded excited about doing long-term planning, it was also pretty clear that long-term planning had the largest potential for conflict, as the board and the companies would have to sort out competing needs.
The companies also had questions about whether the town planned to sign a mutual aid agreement with the county (which the board apparently hadn't seen) and what the board planned to do with the audits. No one appeared to have seen a final version of the audits except the Varna company, perhaps because they'd started earlier. Most of the departments have completed their audits, except for Etna, which is still inventorying and will begin the audit process in a few weeks. There was also a question about whether audits should be performed annually or every five to seven years. Councilman Michaels noted that the accountants had been impressed that fire companies treated their capital funds as restricted funds, despite having no legal requirement to do so.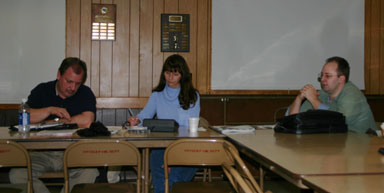 Bambi Hollenbeck listen" />
Councilman Chris Michaels discusses budgeting issues while Councilman Steve Stelick and Town Clerk Bambi Hollenbeck listen
Volunteerism is also an issue, as various people discussed how it's harder to recruit and current volunteers are getting older. The specter of a much more expensive professional fire department was raised a few times, and there was discussion of ways the town could help recruitment and honor outstanding volunteers. Councilman Michaels pointed out that while the equipment and operations costs were real, personnel costs could be a much larger issue in the future.
There were a few different perspectives even among the fire company representatives in the room. McLean has its own fire district with taxing authority, so it has no contract with the Town. Brooktondale has its own fire district, though only in the Town of Caroline, and covers the portion of Dryden along Route 79 through a separate contract with Dryden. There was also mention of Slaterville Springs, which apparently provides rescue services to portions of Dryden along Route 79 without a present contract.
There were no votes or formal decisions made, so it'll take time to see how these issues resolve.
The Ithaca Journal also has an article on the meeting.
Posted by simon at January 28, 2004 8:20 AM in emergency services , photos , politics (local) , public finance
Note on photos