Etna's history, to 1897
We'll see what the Town Planning Board has to say about Etna's future tonight, but here's a rich description of its past from George Goodrich. Etna was a very busy place, and this entry is considerably longer than the one for Varna, and also has two pictures in addition to the map.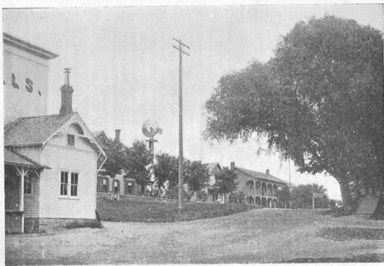 Etna, East Side (1897, Photo by Silcox)
---
Key to the Map of Etna
1. Mrs. C. Turner.
38. Blacksmith Shop.
2. J. T. Primrose.
39. Houtz's Etna Roller Mills.
3. E. F. Weaver.
40. Store.
4. James Rawley.
41. Ai Van Horn.
5. Geo.Cowdrey.
42. Ann Merchant.
6. L. Dusenberry.
43. Geo. L. Snyder.
7. Arthur Burr.
44. Mrs. William Haskins.
8. Mrs. H. Ralph.
45. Ladrew Sherwood.
9. Mrs. D. Weaver.
46. Eli Conklin.
10. L. Freeman.
47. Wm. Tichenor.
11. Wm. Smith.
48. Store.
12. School House, No. 11.
49. Arthur Coggswell.
13. Shoe Shop.
50. Meat Market.
14. David Brotherton.
51. H. A. Root, Hotel.
15. Dr. G. L. Rood.
52. Geo H. Houtz.
16. Baptist Church.
53. Mrs. C. Houtz.
17. M.E. Church.
54. Geo. H. Houtz.
18. Wm. W. Sherwood.
55. W. Marsh.
19. Mrs. J. S. Weidman.
56. Etna Hotel, C. Westervelt.
20. Dr. J. Beach.
57. Depot, L. V. R. R.
21. Edward Gaston.
58. Mrs. Mary H. Bartholomew.
22. E. Snyder.
59. T. Rhodes.
23. C. Bartholomew.
60. Freeman Bros.
24. Mrs. Davenport.
61. J. Bartholomew.
25. E. Freeman.
62. S. Ralph Estate.
26. L. Hemmingway, shop.
63. Milo Snyder.
27. L. Hemmingway.
64. Emma Snyder.
28. D. B. Conklin.
65. Mrs. Hurley.
29. Mrs. John Reed.
66. Etna Creamery.
30. Barbara Rulison.
67. Blacksmith Shop.
31. Arthur Burr.
68. Machine Shop.
32. P. Brady.
69. Hannah Lee Estate.
33. Smith Stevens.
70. Wm. H. Sherwood
34. D. Brotherton.
71. Geo. H. Houtz, Store.
35. Cabinet Shop.
72. Mary H. Bartholomew.
36. Wagon Shop.
73. Mrs. G. B. Davis.
37. Blacksmith Shop.
Chapter XXXIII.
Etna.
We are not able to give the year when Rev. Wm. Miller and his brother Arthur, who was a blacksmith, commenced building in the wilderness of what is now known as the village of Etna, but was first called, after them, Miller's Settlement.
The first grist-mill there was on the same spot and in the same building lately occupied by Jesse Bartholomew as a planing mill. The date of the erection of this mill cannot now be accurately given, and it has been claimed that it ante-dated White's mill at Freeville, but so far as we can learn, without authority, and, as it seems to us, without reason, for Capt. Robertson would not have gone to mill at Ludlowville with his crops of 1799 and 1800 if there had been a mill so near to him as Etna.
The first date of Etna which we can give with any accuracy or certainty is that of the organization of the first religious society in the township, the first and we believe to this day, the only regular Baptist church of Dryden, which was organized February 29, 1804, at the home of William Miller. The meeting was opened with singing and prayer by Mr. Miller, Samuel Hemmingway being elected deacon, and John Wickham the clerk of the society. Among the original members are said to have been Francis Miller, Elijah Dimmick, Silas Brown, Ebenezer Brown, Nathaniel Luther, Job Carr, Ziba Randall, Timothy Owens, Jonathan Dunham, Joshua Jay, Abraham Woodcock, Nathan Dunham, Joel Whipple, Samuel Skillinger, Morris Bailey, Orpha Luther, Asher Wickham, Mehitable Carr, Betsey Brown, Abigail Dimmick, Mary Owens, Lucy Dunham and Katie Woodcock.
A saw-mill was built at about the same time as the grist-mill, upon the site lately occupied by the Houtz saw-mill, and afterwards a fulling mill owned by Joseph Newell and Stephen Bradley, on the ground now occupied by the blacksmith shop of Bert Conklin. Daniel Carr and John McArthur carried on the first store in the house formerly occupied by Wm. Miller and now owned by the Houtz family. The first blacksmith shop stood where is now the center of the road between Houtz's store and grist-mill. The first church building was of logs on the lands of Nathaniel Luther, but was replaced by a frame building on the same ground, which is where the Etna Creamery Co.'s building now stands, and the building is the same one which Caleb Bartholomew used as a pattern shop. At that time there was a bridge across Fall Creek at that point. The first school house stood on the site now occupied by the Houtz store and was the building afterwards used as the old cooper shop, which was finally taken away by high water a number of years ago.
About the year 1815 the place took quite a change. Wm. Miller sold out his property to the Houtz family and the new settlement from that time bore the name of Columbia until about the year 1820, when the postoffice was established under the name of Etna. In the meantime Bradley & Newell sold their fulling-mill to Rice Weed. Stephen Bradley owned and occupied the place now owned by Hiram Root, which afterwards became the property of Joseph Hemmingway. Here he built the hotel, and the original "Bradley House" of former years is a part of the present hotel.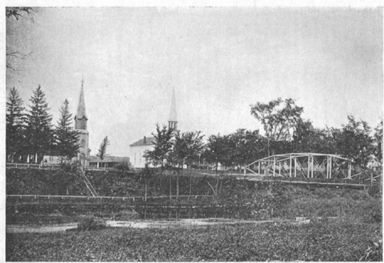 Etna, West Side (1897, Photo by Silcox)
The first shoemaker was Jacob Lumbard, whose descendants are known in the town of Dryden. About the year 1818 a store was built on the ground where Ed Carbury now lives, just east of Root's Hotel. At the same time there was another store kept by H. B. Weaver in the building now known as Houtz' white shop. Henry Beach built a sawmill which was burned on the island about where is now the center of the Houtz dam. Beach sold his interest in this property to J. H. Houtz, who rebuilt the mill, but later took it down to make room for a distillery. On that particular spot one saw-mill and two distilleries were burned and the last distillery was taken off by high water a few years ago, being remembered by the present generation as the old sash factory.
Another distillery stood on the island just back of Conklin's shop and was owned by John Dodge who came from Maine.
Columbia had two bridges at that time, one of which has been mentioned, and the other extended across the creek nearly in front of where Dr. Rood now lives.
When Henry L. Beach sold his property to J. H. Houtz he moved to what was known as Lower Etna, where Truman Rhodes now lives in a house that was then built by Mr. Beach as a hotel, from which there was a road running south to the corner of the pine woods. At that time Lower Etna possessed a hotel, paper mill, blacksmith shop, store, wagon shop, and several other buildings. The first tailor was John Weaver, who had a little family of children from which only nine attended school at one time.
The First M. E. church of Etna was organized April 13, 1835, and their meetings were held in the village school house until 1837, when the present church edifice were erected at a cost of about two thousand dollars, seating two hundred persons. The first trustees were James Freeman, Alvah Carr, Michael Vanderhoef, Richard Bryant, Thomas J. Watkins, Oliver Baker and John H. Porter.
Fifty years ago Etna had a hard name, being then noted for its horse running and liquor distilling proclivities, there being no less than ten or twelve stills within two miles square of this section of the town. While the general business of the place has not increased in recent years the character of its inhabitants and industries has very much improved, and a stranger who now visits Etna finds it very pleasantly located upon the opposite banks of Fall Creek, which are here connected by a very substantial iron bridge, one of the largest and best in the township, and the dwellings and public buildings, including churches and schools, show abundant evidence of the thrift, good taste, and enterprise of the inhabitants. The butter factory, recently incorporated, is one of the manufacturing enterprises which flourish, and for the past twenty-five years Etna has not been behind her neighboring villages in mercantile enterprise or in the educational advantages furnished by her excellent school.
The following pioneers of Etna have been brought to our notice:
Bartholomew, Jesse, Sr., was born in Branford, Conn., in 1763, and about 1783, in Lee, Mass., married Mamra Bradley, who did in Dryden in July, 1823, after which he married Betsey Locke Updike in Dryden in 1831. He came in 1798 to Herkimer county, from which place, after living in Locke, Cayuga county, he moved to the town of Dryden in 1812 or 1813, and purchased and settled on the land now known as the Hanford farm, one-half mile east of Etna, from which he was subsequently driven off by a man who claimed a better title. While he yet lived on the corner where the Etna road joins the Bridle Road, and in the traditional cold season of 1816, he raised a field of corn, said to have been the only crop of that kind matured in the town of Dryden that year. He died in 1846 aged 83 years. He was a devoted Baptist and is said by his children to have been so even-tempered as never to have been seen in a passion. He was the father of fifteen children and the grandfather of over seventy. Among the former were Jesse Bradley, who carried on a distillery in Dryden village in the Pioneer Period and moved to Michigan, where he died leaving a large family; Lemi, who served in the War of 1812, having enlisted as the record says at Dryden, Cayuga county, N. Y., in August, 1814, in Col. Fleming's regiment, which rendezvoused at Cayuga Bridge, and was one of the volunteers who took part in the celebrated "sortie of Fort Erie." He died in Westfield, N. Y. in 1872. Daniel, Sr., was born in Locke in 1798, and in 1819 married Jerusha Griswold, whose children, Mary (Wheeler) and Daniel, Jr., are still well-known residents of Dryden. Caleb and Jesse, Jr. have for many years been prominent business men of Etna, where they both still reside, Caleb having been largely engaged in the manufacture and sale of scales and iron bridges, while Jesse has manufactured specialties, one of which was the first machine used in Etna which would do planing and matching of lumber at the same time.
Carr, John, is said to have come to Etna from Pennsylvania as early as 1800, settling in the western part with his three sons, Job, Peleg and Caleb. His wife is said used to call her sons in the morning, saying: "Come, boys, the birds are saying Job, Peleg and Caleb."
Dunham, Jonathan, with his three sons, Henry, Louis and Nathan, coming from Pennsylvania, settled near Etna about the year 1800.
McArthur, Rev. Daniel, from Scotland, arrived in New York May 29, 1811. He was originally a Presbyterian, but changed his religious views and went to Edinburgh, where he was baptised and united with the Baptist creed. Soon after he took passage for America in the hope that the change of climate would prove beneficial to his wife, who was in poor health but died upon the voyage and was buried on Staten Island. After spending some time with friends in America from his native land he met Mr. Quigg, of Ithaca, on the Hudson river and was influenced by him to come to Dryden, as he did, and died here in 1847, leaving many descendants.
Houtz, Rev. Anthony, with his father, Philip Peter, migrated from Germany in 1768, when the former was only ten years of age, locating at Lancaster, Pa., where the son learned the trade of a tailor, and using this occupation as a means of support he studied theology and was licensed to preach by the German Reformed Church. The original family name was "Hauz"; but as they soon began to speak English, they changed the spelling and pronunciation to Hautz and later to Houtz, which with the English spelling is the exact German pronunciation of "Hauz". During his pastorate in Pennsylvania, his first wife died and in 1803 he married Katrina Keller, who became the step-mother of his four children and in the year following the mother of his fifth, John Heinrich Hauz, who was the old merchant and miller, John H. Houtz, so well known to the old residents of Etna, where now lives and toils at the roller mills his son, Col. George H. Houtz, the great-grandson of Philip Peter Hauz. In the years 1804 and 1805 Rev. Anthony Houtz preached at Canoga and Lansingville and as early as 1806 located at Etna, where he served the people not only as their preacher but also as a tailor, jeweler, or "time keeper," as they were called in those days, and as druggist and physician. His books, still preserved, show that the most universal diseases of the section at the time were the usual new country plagues, the ague and the itch. He was a very useful and much respected man in the new settlement, where he died in 1813 and was buried in the Etna cemetery.
The Rhodes family of the town of Dryden are of English descent, their ancestors having originally settled in Pennsylvania before the Revolutionary War and their great-great-great-grandfather was a cooper by trade who worked for Washington's Army and was killed by Indians in the massacre of Wyoming.
One of his sons, George Rhodes, came to Lansing from Northumberland county, Pa., in 1792, coming by the way of the Susquehanna river to Owego, from there to Ithaca through a forest road, and from there to Lansing, where they settled. They cut their way through the original forest, going east from Ithaca to a spot just east of Forest Home, where they crossed the creek and from there went north to the farm now occupied by John Conklin.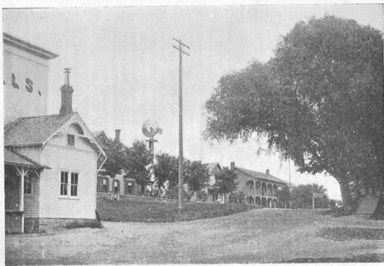 Etna, East Side (1897, Photo by Silcox)
Of a numerous family, one son, Jacob Rhodes, left home in 1804, when he was twenty-one years old, to go for himself. Taking his rifle, ammunition and hatchet, he came to the present town of Dryden, sleeping the first night on the banks of a small stream a short distance southwest of the present site of the village of Etna. From there he went east to where Freeville, McLean, and Dryden now are, camping the second night near the forks of the creek near Freeville. After prospecting for a number of days he came back to where he camped the first night and located, buying a claim owned by a revolutionary soldier named Savage, from Rutland, Vt. His early life was the usual one of the early settlers. For years he kept house by himself and depended upon the forest and streams for provision. He was noted for his woodcraft and marksmanship. In fact, he was barred from taking part in shooting matches, for, with him, to shoot was to win, and at the present time spots can be pointed out where he killed deer, bear, etc.
He married Margaret, daughter of Christopher Snyder, and of a family of eigh, four sons great to an old age, the four daughters having died in childhood or youth. The sons were Wm. S., Geo. W., and Miles and Truman Rhodes. The old home of Jacob Rhodes was until recently owned by Miles Rhodes, and is now occupied by W. J. Davis.
Jacob Rhodes, by combining farming with a distillery, accumulated a large property, which is now owned by his grand-children, consisting of about one thousand acres of land, lying in nearly a solid body south and west of Etna.
---
Goodrich, George B. The Centennial History of the Town of Dryden, 1797-1897. Dryden: Dryden Herald Steam Printing House, 1898. Reprinted 1993 by the Dryden Historical Society. Pages 136-44.
(The Dryden Historical Society, which sells this book, may be reached at 607-844-9209.)
Posted by simon at February 19, 2004 12:15 PM in Etna , history , maps , photos
Note on photos