Traffic calming meeting in Varna
Last night's meeting on "Speed Control on Rural Roads" at the Varna Community Center was very different from a similar meeting in West Danby, but brought up lots of issues specific to the Town of Dryden, especially Varna, Etna, and the Ellis Hollow area. About twenty people attended, mostly from southwest Dryden, though Bruce Brittain of Forest Home was there, as were two men from Waverly and Barton.
Fernando de Aragon, the Executive Director of the Ithaca-Tompkins County Transportation Council, started by talking about the role of his organization, which funnels federal money to local projects and supports studies of traffic patterns and situations. The ITCTC isn't the highway department; it's a metropolitan planning group that's required by federal law since the Ithaca area contains over 50,000 people in areas considered to be "urban" by the Census.
The two VCA copies of the Draft Comprehensive Plan were in the room, and a lot of the early conversation revolved around that plan and process. While Aragon cautioned that there isn't much you can do to change state roads, especially roads like 366 where it feels built for speed, he emphasized that even for these kinds of roads, there may be some hope thanks to projects like the state DOT's Context-Sensitive Solutions (CSS). While it will probably be a decade before the state reconsiders the construction of Route 366 (as part of regularly scheduled maintenance), the area should be ready with plans when that happens.
The Comprehensive Plan would be one part of that conversation, and issues like planned higher density for Varna could have an impact on road construction. Aragon also pointed out that the Village of Dryden had gotten sidewalks and lights out of the recent Route 13 construction there, and that it's a good time to be asking for change. Aragon urged residents to "take this comprehensive plan process in earnest. It's an opportunity for you." It wasn't clear how much information on roads should go into the Comprehensive Plan or how much weight the DOT would give it, but it was something to focus on.
Despite the difficulties with the road, Aragon thought Varna had bright prospects:
"The good news is that I always thought that Varna has some very interesting points in its favor; they have to do more than anything with its location. How close it is to the activity centers of Cornell and the city... the plus in that is that you're close enough that you can talk about having other ways of getting to those places, which are big destinations, and also of having... park and ride activity happen, if it can happen on the outside of the hamlet. You can capture the traffic out there and move it through here in a more concentrated way, a more efficient way."
One other possible advantage Aragon noted for Varna was the prospect of a trail from Freeville along the old Elmira Cortland & Northern rail bed, as noted in the Draft Comprehensive Plan's Future Park & Transportation Improvements map (300KB PDF). Given that trail, if it connected to the East Ithaca trail, and the short distance from Freeville, bicycle commuter traffic is a real possibility.
There were some tough questions about a chicken-and-egg problem with the DOT and Varna, as the state will likely only modify the road if there's substantial population density on it, but achieving that density is more difficult when houses are right next to the road and declining. Aragon suggested gateway treatments and landscaping as possible ways to help the situation, but it's plainly not going to be easy to get the state DOT to change the road. As he said, "they have their interest in keeping 366, like most state roads, to serve a regional purpose of mobility, and freight traffic, and they don't want the traffic slowed down."
A few other possibilities for slowing down traffic, like planting shrubs closer to the road (trees are prohibited for safety reasons), leaving trash cans right on the white line, or changing lane painting - with narrower lanes or lines that shift to put curves in the lanes even when the road is straight - were also options.
Beyond Varna and 366, there were lots of questions about Ellis Hollow and Turkey Hill Roads, especially the intersection of Ellis Hollow, Turkey Hill, and Quarry Roads. Apparently the county had few records of accidents there, but the Varna Volunteer Fire Company did, and Natan Huffman presented those records. The county is planning how to change the intersection, probably with additional signage and possibly flashing lights on the Turkey Hill side of the intersection.
There were also concerns about Ellis Hollow Creek Road, especially the intersection with Genung Road, and Jack Bush, Dryden Highway Superintendent, suggested that he would take a look at it, as they're town roads. County Legislator Martha Robertson described talking with the state DOT and asking them to reduce the speed limit there from the default of 55, and being told that it would lead to tailgating on this generally empty road.
(One recurring theme was the importance of personality in various agencies, especially at the DOT, and also how things like Context-Sensitive Solutions split the DOT and similar agencies into groups with different priorities.)
Another issue that came up was road reclassification, especially amid concerns that reclassification was a first step toward ever-larger roads. Turkey Hill Road between Route 366 and Mt.Pleasant Road, for instance, is being reclassified from a "Local" road to an "Urban Collector", though this has more to do with its being in an area the 2000 census has classified as "Urban" than with any changes to the nature of traffic on the road.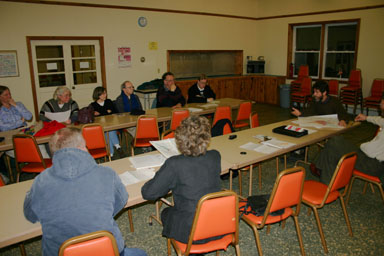 Fernando de Aragon presents the Ithaca urbanization map at the Varna Community Center.
While some of the distinctions between "urban" and "non-urban" areas on the map seemed arbitrary - my house is not urban, but the forest across 366 from me is - Aragon noted that Varna may be in a better position to ask for sidewalks given its urban status.
There were also questions about the nature and value of traffic counts, as well as the apparently loose rules for collecting traffic data. Aragon noted that the county is working to create better databases of traffic (and accidents) and that the county and some towns are investing in traffic counters. (Highway Superintendent Bush noted that the Town of Dryden does not have counters.)
There were a fair number of questions about snow fences, though the central problem with those appears to be the need to have multiple fences and especially fences far from the road for them to work effectively, which creates some major difficulties.
The wide variety of questions gave the meeting much less focus than the earlier West Danby meeting, though it seemed to stem from the area simply having more kinds of problems, some of them intractable.
Posted by simon at February 25, 2004 5:20 PM in Ellis Hollow , Etna , Varna , roads, traffic, and transit , trails
Note on photos