Conservation, environmental planning, and a golf course
Conservation issues were important at Thursday's Town Board meeting, which started with a (very quiet) public hearing on changing the Conservation Advisory Council to a Conservation Advisory Board, spent time on environmental planning issues, and concluded with a discussion about purchasing an enormous parcel, a golf course, on Dryden Lake, for reasons that may have something to do with conservation.
No one spoke on the Conservation Advisory Council/Board proposal during the 7:00 to 7:15pm public hearing time, though Charles Smith spoke briefly before voting, noting that he thought it was a good law. Councilman Christofferson expressed concerns for its potential to become additional red tape. After some discussion, and reassurances that this wouldn't affect people putting garages on their houses, during the discussion, the board passed it 5-0.
During the Environmental Planner's report, the board discussed three issues. The first was a question of Town support for a Six Mile Creek water quality monitoring program, initially for training of volunteers, which is starting soon. The project, a joint project between the Town of Caroline, Town of Dryden, Town of Ithaca, City of Ithaca, Cornell Cooperative Extension, and the Community Science Institute had faced and answered some tough questions from the Conservation Advisory Council, and in the end was passed, contingent on identification of a funding source to cover the approximately $2500 cost.
The next issue, county funding of the five-year Virgil Creek Valley aquifer study, promises to reduce town costs on a project that is already in motion. The town had approved the study in July 2002, with the US Geological Survey paying 30% of the costs and the town paying 70%, or $279,000. The county is now able to contribute $139,000, reducing the town's share to 35%. The study should help the town avoid contamination of drinking waters supplies in the future.
The last issue also promised to improve Dryden's finances. The Town of Caroline wants to contract with Dryden for environmental services, sharing Debbie Gross's time. Caroline will pay $7500 per year, and the contract allows Dryden to pull out if it proves to take too much of Gross's time. It was moved and approved.
The Town Board also appointed Gross to the Ithaca Tompkins County Transportation Council and as an alternate to the Cayuga Lake Watershed Intermunicipal Organization
At the end of the meeting, the board considered another issue with potential environmental ramifications, the town's possible purchase of the Lakeview Golf Course on Dryden Lake. As reported earlier in the Dryden Courier, Supervisor Trumbull is very enthusiastic about the purchase, though opinions of other board members were more mixed.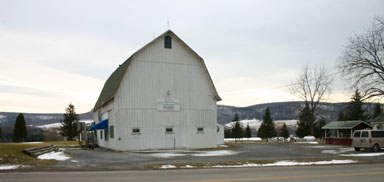 Lakeview Golf Course clubhouse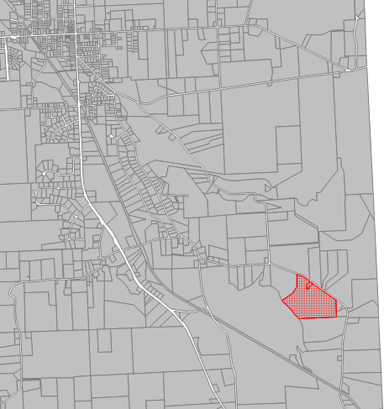 Parcels included in Lakeview Golf Course
Update: A corrected map is available in a more recent story.
The immediate issue was whether to approve a contract with Tallman and Demarest, a local architecture firm, for no more than $5,000 to do a study on the economics of the current golf course. (Supervisor Trumbull also had estimates for similar work of $35,000 from a company in Florida and $8,000 from a company in Syracuse.)
Councilman Hattery stated that "Personally, I am not anxious to see the town running a golf course," and saw the town's role here only as an intermediary. Councilman Michaels was concerned about the lack of connection to existing planning processes. (It is not, for example, included as a possible park in the Draft Comprehensive Plan's Future Park & Transportation Improvements (300K PDF).)
Councilman Stelick said that "I don't want to see this lake disappear behind that growth. " Councilman Michael noted that he didn't want to see housing there, but he was "very resistant to keeping someone who paid cold hard cash for it from building houses on it."
Charles Smith suggested that this was something the Conservation Advisory Board could take a look at, and Supervisor Trumbull seemed interested, though no formal request was made at the meeting.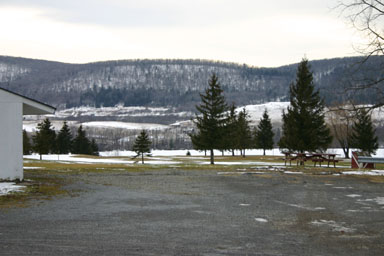 View of Dryden Lake from Lakeview Golf Course
On the strength of Councilman Michael's suggestion that "not doing this now means not having the information we need when it's time" - and given that time was short, as the course is now in foreclosure, with an auction likely in early summer, the board approved going ahead with the study.
Posted by simon at March 15, 2004 7:47 AM in Dryden Lake , planning and zoning , recreation
Note on photos