Fire department contracts, audits
Fire department issues came up repeatedly during the Town Board meeting on March 18, ranging from fire hydrant painting to contracts and audits.
Fire hydrant maintentance came up during the engineering report, with questions about painting, flushing, and flow-testing. Much of this work may be done this summer. Bolton Point requires that their active hydrants be painted orange. (There is one black hydrant, in Lansing, used only for flushing the end of a line.) It sounded like the last major testing was in 1989 or 90.
Councilman Steve Stelick brought up a number of fire-related issues during his privilege of the floor, noting that he had attended the February 25th fire chiefs meeting. Mutual aid and dispatch issues were getting sorted out with the county, and there was discussion of FAST (Firefighter Assist and Seach Team) teams. Freeville offered to share $18,000 of rope with other departments. The accountability system, an OSHA requirement, is getting standardized and implemented across local departments (though it varies across departments and especially counties). Neptune has a laminating system for the color-coded tags used to identify which firefighter has which certificates, and is letting other departments use it. Stelick and Michaels also met with the Neptune and Varna departments in what Stelick described as successful meetings.
The nature of that success became clearer later, in discussion about contracts. This year's contracts are based on last year's contracts, with some key changes. The amounts are changing to match this year's budget, and the departments are required to put capital investment funds into restricted capital reserve accounts. The controversial quarterly payment system, in which the town paid departments 50% of the annual budget at the beginning of the year and the remainder of the money disbursed at quarterly intervals, remain in place, but with one large modification: the capital funds are all paid at the beginning of the year, and only operating funds are disbursed this way.
Three of the company contracts - for Neptune (Dryden), W.B. Strong (Freeville), and Varna were ready for signing, as was the unchanged contract with Brooktondale, which Dryden pays to cover the section of Dryden along 79. Etna's contract is still being held up by reporting issues.
Councilman Michaels noted that their meetings showed that the departments are consistently working to improve the compatibility of their equipment, "getting a great deal of attention." The one area of concern is that Etna has a lower number of volunteers and, according to the call logs, their response time is declining. Michaels noted the possibility of automatic mutual aid to call out Varna or Freeville rather than waiting nine to ten minutes to see if Etna can respond, and all of the departments are interested in automatic mutual aid for certain types of calls.
All of the departments, even the very very healthy ones, are having recruitment troubles - "departments are not regenerating that core group of volunteers." Neptune ran an insert in The Shopper that week looking for volunteers, and there was some discussion about ways for the town to promote volunteerism.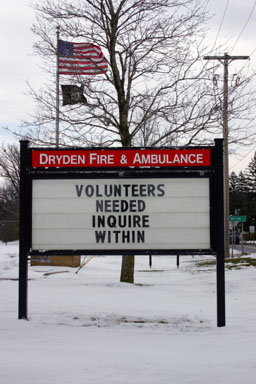 Neptune Hose Company needs volunteers
The audits, except for Etna's, are underway, and copies of the final audits for Neptune, W.B Strong, and Varna (2.6MB PDF) were distributed among the board. (The Dryden Courier has reported on some of the audit findings.)
The Town Board's April 8th meeting will be held at Dryden Fire Hall (map), and will be discussing an incentive retirement plan for firefighters as a recruitment and retention tool.
Posted by simon at March 21, 2004 9:24 AM in emergency services , politics (local)
Note on photos