Ithaca Journal meeting
I went to the Ithaca Journal's "Coffee with the Journal" session today, and came away pretty impressed. I'm not always thrilled with either the Journal's reporting or their editorial at times, and mentioned it, but the people there - Managing Editor Bruce Estes, Metro Editor John Carberry, and Opinion Page Editor Joseph Schwartz - had lots of good ideas and interest in doing more and better in the future, especially as they launch the "Our Towns" section.
The opportunity for "Our Towns" seemed to come from some reorganization in the shape of the paper, especially around the classifieds, and the Journal sounds ready to take advantage of that opportunity. Every Wednesday there will be a section focused on Dryden and Groton, and it sounds like they'll be using the space in part for articles on news stories with the kind of analysis that's hard to do when covering a meeting for the next day's paper. Other parts will be dedicated to profiles of people, businesses, and events in the community. Breaking news will still appear in the regular local section.
I did pester them about their earlier obsession with the County Executive proposal and had some questions about the fairly chaotic way the fire company issues were handled, not to mention their fluctuating editorials on that subject, and they had reasonable and polite responses.
Apart from Journal staff, only three people attended - myself, Dryden Central School Board President Rachel Dickinson, and Dryden Superintendent Patricia Archambault. Having it during working hours makes it hard to get people out, but I'm glad they had it in any event.
I also liked this tree behind the Dryden Central School District office building: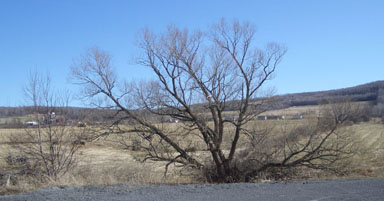 A complicated tree behind the Dryden Central School District office
Posted by simon at March 29, 2004 8:07 PM in Ithaca Journal
Note on photos