Populations for Ellis Hollow and Bethel Grove
After the Greater Varna calculations, I thought I'd take a look at Ellis Hollow, Bethel Grove, and Snyder Hill. Unfortunately, the U.S. Census Bureau uses Snyder Hill Road as a dividing line between blocks that front Ellis Hollow Road and blocks that front Route 79, Slaterville Road, so I can't calculate Snyder Hill separately.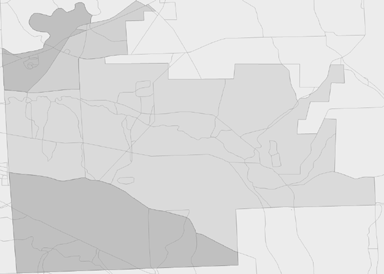 Ellis Hollow and Bethel Grove census blocks, with Varna to the north.
These figures are only for the portion of Bethel Grove that is actually inside the Town of Dryden, though there is development on both the Ithaca and Caroline sides along Route 79. Ellis Hollow includes Ellis Hollow Road, Ellis Hollow Creek Road, and roads that come off of those. Snyder Hill is divided among the two areas, with the north side of Snyder Hill Road going to Ellis Hollow and south side going to Bethel Grove. As usual, all figures come from the 2000 census data.
| | | |
| --- | --- | --- |
| Population | Ellis Hollow | Bethel Grove |
| Total | 1574 | 581 |
| White | 1500 | 553 |
| Black | 19 | 9 |
| Native American/Eskimo | 4 | 0 |
| Asian | 37 | 7 |
| Hawaiian/Pacific Islander | 0 | 0 |
| Other | 8 | 4 |
| Multi-racial | 6 | 8 |
| Hispanic | 33 | 6 |
| Males | 755 | 266 |
| Females | 819 | 315 |
| Under 5 | 85 | 42 |
| 5 to 17 | 286 | 89 |
| 18 to 21 | 61 | 22 |
| 22 to 29 | 122 | 57 |
| 30 to 39 | 187 | 114 |
| 40 to 49 | 300 | 91 |
| 50 to 64 | 348 | 101 |
| 65 and up | 185 | 65 |
| | | |
| --- | --- | --- |
| Households | Ellis Hollow | Bethel Grove |
| Total Households | 643 | 260 |
| Household - 1 Male Only | 56 | 34 |
| Household - 1 Female Only | 98 | 49 |
| Married, Children | 178 | 53 |
| Married, No Children | 225 | 60 |
| Male Head of House, Child | 7 | 3 |
| Female Head of House, Child | 18 | 17 |
| Families | 444 | 147 |
And looking at housing, we get:
| | | |
| --- | --- | --- |
| Housing Units | Ellis Hollow | Bethel Grove |
| Total Housing Units | 670 | 283 |
| Vacant | 27 | 23 |
| Owner-Occupied | 517 | 171 |
| Renter-Occupied | 126 | 89 |
Posted by simon at April 25, 2004 3:20 PM in Bethel Grove , Ellis Hollow , demographics
Note on photos