County Planning comes to Dryden
As part of the process for the Tompkins County Comprehensive Plan, the Planning Department held an open house and meeting on Thursday at the Dryden Town Hall.
The open house started at three, with displays up and Deputy Commissioner of Planning Joan Jurkowich and Planning Analyst Tom Mank taking questions from visitors. Tom Hatfield of the Town of Dryden Planning Board was there at six when I arrived, and more people arrived as the seven o'clock presentation grew nearer.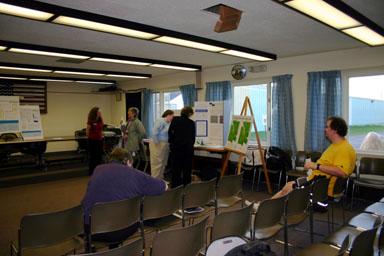 Deputy Commissioner of Planning Joan Jurkowich and Senior Planner Heather Filiberto talk with visitors
The presentation itself was, as the planners warned, the same talk they had given at other events, including the one given in Varna in March. Senior Planner Heather Filiberto walked through the various pieces of the plan, and provided some extra Dryden-specific detail. For example, the median rental in the county costs $611 a month, but $544 in the Town of Dryden, $530 if students are excluded. Only 54% of households in the county own their own homes, but 68% of Town of Dryden residents do, and 61% in both the Village of Dryden and Village of Freeville. 22% of Town residents are paying more than 30% of their income for housing, and 26% of residents of the Villages of Dryden and Freeville are in that situation. (County-wide, the number is closer to 30% of households.)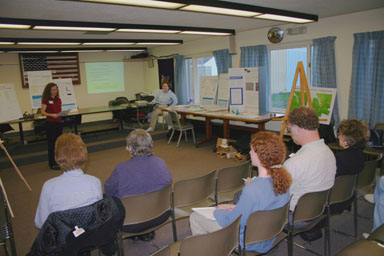 Senior Planner Heather Filiberto presents the draft plan
Dryden also has lots of land in its northeast corner considered excellent farmland, and portions of eight of the fourteen "Natural Features Focus Areas".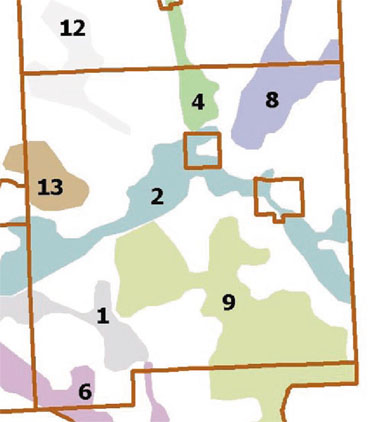 Natural Features Focus Areas in Dryden (1 - Cascadilla Creek, 2 - Fall Creek, 4 - Owasco Inlet, 6 - Six Mile Creek, 8 - The Fens, 9 - The Forest Lands, 12 - Wetlands Complex North, 13 - Wetlands Complex South.)
Along the way, Filiberto also discussed action items, the tasks the plan proposes to move forward on once the plan is approved, a fiscal impact analysis of the plan is conducted, and an implementation plan is developed. The action item list is probably the best place to get a perspective on what this plan will do. As land use decisions remain in the hands of municipalities - towns, villages, and the City of Ithaca - the county plan is more about regional integration and studies than about deciding where to put houses and factories.
County Legislator Martha Robertson asked if the County had seen or looked at the Town of Dryden's Draft Comprehensive Plan. Filiberto replied that they had seen it, but they can't really use it until it's stable and formally adopted. David Weinstein, of the Dryden Planning Board, suggested that one area where the county could help municipalities with their plans was to discuss development at the edges, where municipal boundaries meet.
Dryden Planning Board Chair Barbara Caldwell noted that both the town and the county were looking into ways to strengthen hamlets, but that it was difficult to do that when roads cut through them. Filiberto suggested that they would be looking for ways to balance transportation needs with the needs of the people living on those roads, and Joan Jurkowich added that the Vital Communities Initiative, a separate project, was looking at "how to preserve road function while maintaining communities." David Weinstein noted that the balance was hard to maintain when the state's primary interest seems to be maximizing traffic flow.
Ross Gerbasi expressed concern that while the plan noted the natural beauty of Tompkins County, he was worried about how "to encourage keeping what we have rather than losing the little bit we have left." He pointed out the steady disappearance of Cayuga Lake views from the Ithaca shoreline, as more buildings have gone up and Cornell now plans a hotel. He asked if elevated viewing platforms were in the works, and Joan Jurkowich noted that there would actually be some elevated scenic views from the scenic byway being put in around the lake.
David Weinstein also asked why making the southern end of Cayuga Lake swimmable - like Seneca Lake at Watkins Glen still is - wasn't part of the plan. Joyce Gerbasi pointed out that part of the reason Watkins Glen still had swimming was that they hadn't filled in their swamps and built on them, as Ithaca had done. Gerbasi was concerned about water quality as well, and wanted to know if there were plans to help with that. Filiberto and Jurkowich pointed to action items regarding septic systems.
Martha Robertson also asked if the Planning Department had any thoughts on their preferred population for the county, and housing implications. Joan Jurkowich said that they hadn't done that, but that it would take 2600 new housing units just to address projected growth here without attempting to build new housing here to reduce in-commuting. David Weinstein also asked if the county had further plans to help renovate older housing stock. The planners pointed to Better Housing of Tompkins County, which does some of that work but is no longer affiliated with the County.
David Weinstein asked about the focus on infill development at existing nodes and what that might mean. Heather Filiberto said they were looking at disused buildings, empty parking lots, and empty lots primarily. Weinstein also asked about the possibility of contention between keeping land for farming and using land for development, especially around existing villages. Joan Jurkowich said there were some land use scenarios under development to examine those kinds of issues. There was also some discussion of a study done by a course at Cornell's Department of City and Regional Planning led by Professor Rolf Pendall.
I asked that when they conduct the studies listed in the action items that they make the results as detailed as possible, so readers can find details on the state of their town or village, not just general pictures of the state of the county.
Posted by simon at May 2, 2004 12:41 PM in Tompkins County , nodal development , planning and zoning
Note on photos