Youth and Recreation at May Town Board meeting
Dryden Youth Commission Chair Tracey Kurtz presented the Commission's 2003 Annual Report to the Town Board.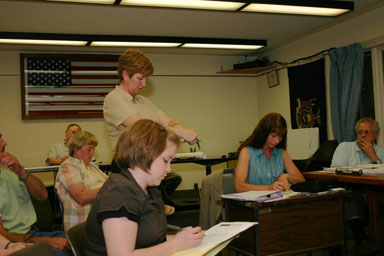 Tracey Kurtz presents the Dryden Youth Commission Annual Report
Kurtz came back later in the meeting to propose that the board remove the Dryden Schools Athletic Director from the Dryden Recreation Commission, where the position has a permanent seat. Councilman Marty Christofferson was concerned that this would reduce the connections between the schools and the Recreation Commission, but Councilman Stelick said that the decision to include the Athletic Director was made before there was a Recreation Coordinator, and that the Athletic Director now works more with the coordinator than the commission. Because the Athletic Director doesn't come to meetings, the commission has difficulty reaching a quorum. The school district and Athletic Director have been involved in discussions of the bylaw changes. There were concerns about the difficulty of reading the bylaw changes required and sorting them out, so the board held the issue for future discussion.
Kurtz also recommended hiring Eric Hoffman to be Recreation Assistant, using funds already within the recreation budget.
As Recreation Coordinator Jennifer Glaab couldn't make the meeting, Steve Stelick read the recreation report. Councilman Christofferson gave a brief report on Dryden modified lacrosse's 2-1 win in a scrimmage against Bath and their 8-3 loss to Horseheads.
Stelick noted a proposal to lease space from the Baden-Powell Council of Boy Scouts to cover the time before a new town hall is available. The council authorized the supervisor to negotiate a lease.
A proposal for canoes on Dryden Lake met less approval. TC3 is offering canoes, which will Stelick hoped would be an improvement on "less than quality" boats the town offered through a contractor in the past. There was discussion of a $2000 canoe rack - and whether that would be a permanent structure needing Conservation Board approval. Councilman Mike Hattery, noting that personnel costs were a lot of the proposal, wondered if a more limited program was appropriate. Councilman Chris Michaels felt that people who were into canoeing would likely be going to other venues, while people learning about canoeing would probably want more guidance than this proposal offered. The proposal was held for further consideration.
Posted by simon at May 23, 2004 8:02 PM in Dryden Lake , TC3 , recreation
Note on photos