June recreation issues
[I know, June is almost over, and I've not nearly finished covering the June Town Board meeting. I'm trying to finish it within the month of June, but definitely before next week's Town Board meeting. The town's minutes are available if you're impatient for more.]
Recreation issues were thornier at the June Town Board meeting than they've been previously. Disagreement over the canoe rentals from the previous meeting was an important part of that, as was the County's reduction of support for the Tompkins County Recreation Partnership.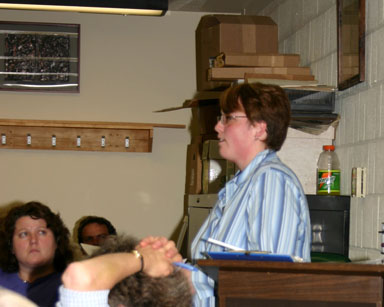 Recreation Coordinator Jennifer Glaab presents the June recreation report
Recreation Coordinator Jennifer Glaab opened her recreation report (155KB PDF) with lineup of summer concerts to be held in Montgomery Park (165KB PDF). This year will be eight consecutive weeks instead of two weeks per month, "with a couple of big names on the plate this year." They're also offering businesses the chance to co-sponsor these events, and the Dryden Recreation Commission will be providing concessions.
Glaab thanked Town Attorney Mahlon Perkins for creating a single contract for performers, and drafted a resolution authorizing the Town Supervisor or his designee to execute these contracts. The board passed it, minus the designee clause.
Glaab also noted the upcoming Wal-Mart All-American Kid's Fishing Derby, July 17th on Dryden Lake, and the summer travel baseball and softball teams.
Glaab reviewed past events, including the Sierra Mist Dribble, Pass, & Score soccer competition (154KB PDF), as well as the sectional competition for the Pepsi Pitch, Hit, & Run and the Duke Erickson Co-Ed Adult Softball League.
In reponse to the board's earlier criticism of the canoe rentals program, Glaab created a revised proposal (160KB PDF):
"I took out the purchase of any new equipment. This proposal just has the TC3 six canoes that they agreed to lend us. I also cut back the lifeguarding staff and hours, and cut back some of the purchases of the lifejackets. I actually cut back the rental charges. On the canoe rack... that could be a temporary. It'll be steel with PVC pipe on it... wide enough for two canoes side-by-side.... I can get that for $505."
Councilman Christofferson asked what the need was, noting that people often have their own canoes. Glaab said it was to help people who didn't have canoes or transportation for them, and reported that people last year had taken a lot of literature on it and been enthusiastic. It would also get people out on Dryden Lake. The Youth Commission has been interested in doing some day camps with the canoes as well.
Christofferson noted that they'd heard from the accountant that they had limited funds, and he was wondering how they could do all of that. Glaab pointed out that this cost less than the lacrosse programs Christofferson has championed, provoking some laughter.
Councilman Michaels preferred to have the canoes used for special events, but not to pay for a lifeguard on a regular basis when it wasn't clear people would be using the canoes. Michaels agreed that the program was a good idea, but didn't think the costs for continuous operation made sense. Glaab offered to incorporate special days in the program, but Michaels seemed more interested in one-day projects instead and asked for a smaller program with less staffing. Michaels wasn't happy with the costs per person served.
The last issue, the county's upcoming pullout from the Tompkins County Recreation Partnership, created the most sparks. The Town is a member of the Partnership and has to give fifteen months notice to leave. 556 town residents participated last year. Glaab presented some possible options for costs next year, which ranged from $11,449 to $14,311.
County Legislator Martha Robertson explained that the assessment formula varies by number of participants and total assessment. Glaab said that because of the 15-month notice, the Town would be facing one of these options. Glaab hoped that the Town would urge the County to continue its funding.
Chris Michaels was concerned that while he'd "rumblings", "most of the information he'd received seemed inaccurate or colored", and asked for more information at the July meeting on the number of users in the community.
Glaab pointed out a letter from Supervisor Don Barber of Caroline (272KB PDF) on the changes ahead and the possibilities they offer. Martha Robertson described the original negotiations that had created the Partnership as "brutal," and said that the county was still sorting out whether their staff support would be continued, at about 20% of full-time equivalent. The county will be presenting a list of what that staff support does.
Robertson said that the two main questions were how much of a subsidy the town would provide and how much staffing the town would provide. Michaels said the he understood the questions and didn't think renegotiating the contract made sense, but wanted details on what the town was getting out of it. He felt the town had been "wishy-washy" about its commitments. He also asked if this program mostly benefited the west end of the town, but Glaab said that it seemed to serve the whole town.
County Legislator Mike Lane suggested getting Nancy Zahler to discuss the history of the partnership, and noted the history's ties to the Ithaca City School District's sprawling size and inclusion of territory in places like Dryden.
Councilman Steve Stelick, who had been to a recent meeting on the future of the partnership, demanded change, saying that:
"While Dryden at the time was very interested and involved in getting in this, we have since changed in a lot of ways. We have our own Rec Department. We have a very active Rec Department that's moving forward. I stated at that meeting that and I state here tonight, that we do, at least I do, support the Rec Partnership at this time. I also stated in that meeting - Martha was there - that Dryden is no longer going to be a silent partner in that rec partnership. Previously it's been run by a very small group of people, and it's specifically Ithaca and the Ithaca Youth Bureau. We're not going to allow that. We're going to be interested in what programs get financed and there's a lot of other things.
"One thing you left out is probably the best-run program around here, the Town of Lansing's, and they are not involved in this Rec Partnership... Their Rec Director has stated that they're not going in this because of the way it is run. The fact that we feel there is a lot spent on bureaucracy.
"I'm going to be very involved in this personally, and I've talked with Jen about this at length. We want to take care of all the kids that are in the Town of Dryden. Whether it's Ithaca School District or Dryden School District, we want to get the best bang for our buck. I still think, in the end, the best way to do it is for the municipalities to run it with help from the Ithaca Youth Bureau, but - one vote. One vote, and we have say, not 'here. This is what you get.'
"We want real numbers. We want to pay for the programs. We don't want to pay for bureaucracy. I don't want to pay for eight layers of bureaucracy because it doesn't trickle down to the kids. I looked at the numbers. Specifically I remember soccer programs. Almost nothing got down there. They were paying for all the coaches. You come here to Dryden. You don't pay for the coaches. We have a Rec Director, we now have an intern for the summer. We depend on volunteerism and that's the way, listening to Don Barber, and in his letter, that's what we need to continue on with.
"I want to take care of every kid that wants to participate in the Town of Dryden. I think that we can do a better job by working with the Town of Lansing, by working with Don Barber in Caroline, with Ulysses, and doing it ourselves... together equally, instead of being this uneven."
Martha Robertson defended the "bang for the buck" of the program, pointing out that it provided a lot for an $11,000 investment and that the partnership looks at costs down to the nickel. In response, Freeville Village Clerk Patty Mooney said that she can't afford the County summer camp, and finds the Freeville summer camp a much better deal. No actions were taken, but this seems likely to be a big issue in the July meetings.
Neptune Hose Company Chief Ron Flynn asked that the Rec Department let fire departments know when they'll be holding events at Dryden Lake so they can make sure to have coverage.
(The Recreation Department's 2004 budget (552KB PDF) was also in the Recreation Report but wasn't discussed at the meeting.)
Posted by simon at June 29, 2004 4:22 PM in Dryden Lake , TC3 , Tompkins County , public finance , recreation
Note on photos