Catching up with yesterday's Journal
It's a good thing I put up a late-night post that produced an entry for yesterday, as I left at 6:30am for Ottawa, Ontario, to pick up a friend, and wound up returning home after midnight, after my wife drove to Utica to get us in a car loaned by generous friends.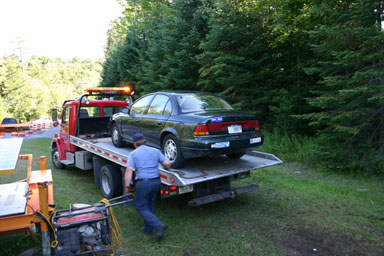 My car on a tow truck, near Inlet, NY
The car is now in Utica, so it may be light here tomorrow while I sort that out.
Anyway, the Ithaca Journal did have some articles about Dryden-related issues while I was wondering how to get home. The biggest of them was an article on Thursday night's many public hearings. There's also a picture of Tompkins County Highway crews repairing culverts on Sheldon Road Friday.
In government activity near Dryden, the New York State Department of Transportation will be conducting a study of the Route 13-Brown Road intersection, the first intersection on Route 13 west of the Dryden town line.
There's a brief on the 4-H Fair next week, which includes a pointer to the schedule.
In Religion Briefs, there's a notice that the Etna Community Church is preparing to celebrate its 200th aniversary on September 19th.
In Darts & Laurels, there's a laurel from Doreen Barker of Brooktondale, to a number of businesses and organizations including the Dryden Recreation Department for their work in organizing and supporting the July 17th fishing derby on Dryden Lake. There's also a laurel from the American Red Cross, the Varna Community Association, Mike Raffe and Lauren Signer to participants in the June 25th blood drive at the Varna Community Center. (This seems to be the same as a Laurel published July 10th. Also, the paper's site doesn't include the letters printed in Saturday's paper, but none of them are from Dryden writers.)
Posted by simon at July 25, 2004 3:43 PM in Etna , Ithaca Journal , recreation , roads, traffic, and transit , water and sewer
Note on photos