Mark Rust gets people dancing
Montgomery Park had music and dancing last night as a couple of hundred people turned out to see Mark Rust and dance. In the first of a series of eight Wednesday night concerts sponsored by the Town of Dryden Recreation Department, Rust taught steps to a crowd of dancers by the bandstand.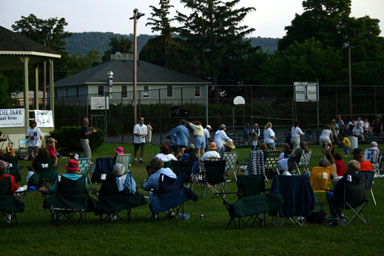 Mark Rust (clapping near bandstand) gets a crowd dancing a Virginia Reel.
The next concert will be Wednesday, July 7th at 6:30pm, with the Burns Sisters performing. (I've posted the concert schedule (165KB PDF), and copies are available at Town Hall.)
Posted by simon at July 1, 2004 8:45 AM in recreation
Note on photos