Volunteer fire companies, jail, laurels
Today's Ithaca Journal has a strong focus on volunteer firefighting, with a piece on families volunteering and the difficulties of recruiting volunteers, the latter of which quotes Dryden Chief Ron Flynn about the sign in front of the Neptune station.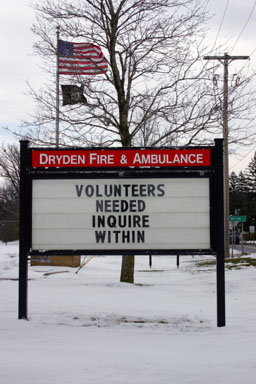 Neptune Hose Company needs volunteers
There's also a piece on options for the Tompkins County Jail that quotes County Legislator Martha Robertson.
Darts & Laurels has two laurels and a dart from Dryden residents, as well as a laurel from a Dryden organization:
Sharon Warner of Dryden sends a dart to the Ithaca Journal because "bad behavior got huge press... Pity the paper cannot reinforce the kinds of behavior we ask our teens to exhibit rather than support those whose lives are pitiable."
Rachel Dickinson, president of the Dryden Board of Education, sends a laurel to voters for passing the budget last month.
Kathy Zahler of Dryden sends a laurel to Karen Lembo, writer of a letter last week that objected to "Bush Must Go" signs and complaining that she hadn't seen any John Kerry signs. As Zahler points out, the Dryden Democrats have those signs, and you can call me at 256-5334 about getting one.
The American Red Cross, Mike Raffe, Lauren Signer, and the Varna Community Association send a laurel to blood donors at their June 25th event.
There's also a guest column by Nathan Winograd, outgoing director of the Tompkins County SPCA, on spreading the no-kill approach they use on Hanshaw Road to other shelters.
Update: Hrmmph. Darts & Laurels also included a complaint from a couple in Trumansburg complaining about sign theft. My signs out front disappeared sometime yesterday. Their sign was a Bush-Cheney, while my two were Kerry, but sign-stealing seems unfortunately to be popular this year. I just replaced my two.
Posted by simon at July 10, 2004 10:32 AM in Ithaca Journal , emergency services , politics (local) , politics (national) , schools (Dryden)
Note on photos