New Dryden Intermediate principal, gift box drive
This morning's Ithaca Journal reports on Sandra Sherwood, the new Dryden Intermediate School principal, who came to Dryden from Marathon this September.
In the Our Towns section, there's a report (with complete directions for how to participate) on the "Home of the Brave" gift box drive at Dryden Veterans Memorial Home. Donors should bring items, possibly in shoe boxes, with the top and box wrapped separately, and drop them off at the DVMH on Route 13, Monica Whyte at 3B Deibler Drive in Freeville, Willowbrook Manor, or Tompkins-Seneca-Tioga BOCES. Checks are also accepted, payable to the American Legion Christmas Fund.
This article doesn't seem to have made the online edition, so here are two key paragraphs on what goes in those boxes:
Some of the most requested items include writing paper and envelopes, batteries, and fun items like nerf balls and playing cards.

Other items Ferguson suggests are toilet paper, gel shaving cream, disposable razors, dental floss, toothbrush w/cap, deodorant, soap, baby wipes, cotton swabs, lotion, comb and brush, sun block, aloe vera gel, lip balm, eye drops, saline spray, q-tips, pain relievers, feminine hygiene products, throat lozenges, foot cream and powder, moleskin, laundry soap (single load size), chewing gum, hard candy, cookies, nuts, sunflower seeds, granola bars, trail mix, small bags of snacks, goggle style sunglasses, eyeglass wipes, duct tape (military green, tan, black, gray), electric tape, flashlights with a red lens and shoe polish kits.
The print edition also has a notice that the Zoning Board of Appeals is looking for a new member. If you're interested, call Henry Slater at 844-9120.
There's another article on redistricting in the Ithaca City School District, which could affect the southwest corner of Dryden. Cayuga Heights Elementary is mentioned in particular for crowding, and I know my immediate area sends its children there, though I can't find a simple map online of which areas go to which schools. The ICSD does a part of their site dedicated to redistricting.
The race for US Senator from New York State came near Dryden last night, as candidates debated at Cornell University. I went to it, but there wasn't a lot to report from a strictly Dryden perspective. Apart from one question about agriculture and the upstate economy, pretty much all of it was focused on national issues. I can't say the debate changed my mind about much, though it was very strange to experience an "audience must be silent" event.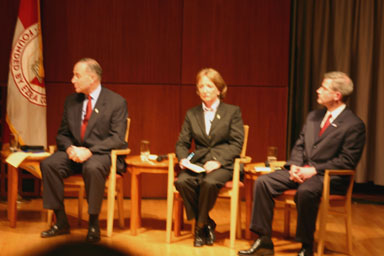 Candidates for senator Schumer, O'Grady, and Mills.
On the opinion page, the Journal's editorial discusses manufactured housing, while Maureen Brull of the Town of Dryden writes to say that "with all this clamor about whether Kerry's comments about Cheney's daughter were offensive, we have taken our eyes off the real issues facing this country, such as an immoral war, health insurance and loss of jobs."
Posted by simon at October 20, 2004 8:39 AM in Ithaca Journal , politics (national) , schools (Dryden) , schools (Ithaca) , veterans
Note on photos