Emergency services issues at December Town Board meeting
I had a few questions after Friday's Ithaca Journal article on fire company news, which says:
Stelick and Michaels have long served as town liaisons to the emergency service providers and have found themselves wishing they had permanent, experienced staff to help them.

"They're in over their heads," Ron Flynn, chief of the Neptune Hose Company, said. "I commend the Town Board for recognizing they don't know enough to do it. And I've heard some scuttlebutt about going back to the distrust of the departments, but I don't get that sense at all."

Stelick said creation of the position would be a move toward the long-term process of eventually having one fire department in the Town of Dryden.
That last paragraph seems to have reignited some of the concerns described in the second paragraph, but so far as I can tell, it isn't what Steve Stelick actually said in the meeting.
There were a lot of emergency services discussions over the course of the meeting, and it seems to make sense to go through them in the order they happened.
Early in the meeting, Neptune Fire Hose Company Chief Ron Flynn introduced the three Dryden-based recipients of the Ithaca Journal's firefighter appreciation awards:
Chief Roy Rizzo of the Varna Volunteer Fire Company received the award of valor for "his heroic actions at the scene of a structure fire in Slaterville that unfortunately took the life of Bret Neff, Deputy Chief of the Harford Fire Department."
Captain Ken Vorstadt of the Neptune Hose Company received the firefighter of the year award for "his outstanding commitment and leadership within the organization, and his tireless involvement with the local Cub Scouts, Girl Scouts, and Boy Scout troops within Dryden.
The volunteer of the year award went to Jennifer Wildridge, Flynn's "chief's saving guardian, my right hand person... she has extraordinary efforts behind the scenes, helping the organization run smoothly."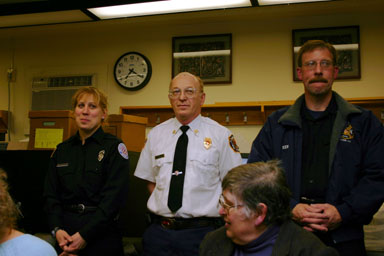 Award recipients Jennifer Wildridge, Roy Rizzo, and Ken Vorstadt stand while being honored at Thursday's Town Board meeting.
Next, Mike Raffe of the American Red Cross gave a presentation on disaster preparation in the Town of Dryden. I've posted a scan of his handout (200 KB PDF) explaining the Dryden Disaster Partnership Group, and he also handed out copies of a USA Today article, "Police, fire departments see shortages across USA," looking at some of the challenges faced by emergency services today.
Later in the meeting, Town Supervisor Steve Trumbull noted that a generator had been installed at the Beam Hill radio tower, and should help Neptune Hose Company as well as other communications served at the tower when power goes down. (The new generator should also spare firefighters driving out to the remote location when weather conditions are bad and other problems are likely happening.) Chief Flynn reported that propane for the generator was scheduled to arrive that Thursday.
Shortly afterward, the board discussed moving to a two-year contract cycle from the current annual negotiations. When Supervisor Trumbull asked for opinions on the idea, Town Board member Chris Michaels replied:
I have a strong opinion... Dryden Ambulance asked for a two-year contract and I thought that was a fantastic idea. And not only do I think a two-year contract is a good idea, because of the amount of time and effort that goes into negotiating it, and putting them off the election cycle, I think is a good idea. A lot of damage was done to a lot of people involved who were volunteering an awful lot of their time, and it was a very political process. Some things were held up because of an election and I'd rather not see that. I think it is important, it shouldn't be held over.... For those reasons I'm a big advocate of two year contracts.

Also... 90% of the budget relates to equipment for emergency services. I don't think it's that difficult to negotiate. The big question from our point of view is 'do we have the right equipment?' If we don't what do we have to do in the short term to tackle this... in the long term that's an agonizing process if you do it right. Two-year contracts are a good thing.
Councilman Steve Stelick pointed out that both Neptune and Varna had asked for two year contracts, after much negotiation. He hoped to bring Freeville in as well, and have numbers by the next meeting. Town Attorney Mahlon Perkins brought up a large potential problem: the board hadn't "advertised these as two-year contracts when you advertised [the budget]." Perkins will be looking into it. Councilman Marty Christofferson suggested getting the contracts out and adding the second year as an addition. (There's also an issue with OSHA reimbursements going from $5000 to $10,000, which has to be resolved.)
Next, the Town Board what Supervisor Trumbull called "the contentious issue of the Etna Fire Department situation." Board member Michaels suggested that maybe that wasn't the best way to describe it:
"My characterization of it would be that it started contentious and I didn't feel like it ended that way. I'd like to make clear that... whatever else might be floating around, this really boils down to a volunteerism issue. They have about ten to fifteen volunteers that will show up for a structure fire, and a number of pieces of equipment that they're trying to get to those fires. A very large percentage of the calls, though, are rescue calls during the day. The group of volunteers has these silly things called "jobs"... they may be working... not locally.

Some of the concern was the percentage of calls they've been able to respond to. Steve had printouts of the actual calls and we went through some of them with them. Their anecdotal information... a number of the calls they were unable to respond to were predominantly rescue service calls during the day that may be heavily mitigated by the flycar that has just gone in at Varna, and that will be the primary response.

I would like to make clear that whatever concerns we have in general, the volunteers that are showing up are putting out tremendous effort. We're reading articles, we're hearing from everybody that there are national statistics that volunteerism is down, paid staff is down, and the population keeps growing. Definitely they're hit by that.

On the positive side, they've had some very good new volunteers... pretty much every department has said the following. "We can get lots of new people in here, but when they really see what they have to do, and the paperwork that they're going to be doing. We have a lot of people who what they wanted to do was show up and use a fire hose and put out fires." A very large percentage of what they're doing, roughly 80%, is rescue calls. I think that the things the town is already moving in the direction of, responding to the rescue calls, will ease some of that burden.

Another issue that we may be able to take some future action on is the increased percentage of their calls that they respond to and that Dryden Ambulance responds to which are from people who - the comments they get when they show up and somebody reports stomach pain or flu symptoms is that DSS [Department of Social Services] doesn't provide a taxicab to go see the doctor, and what they're really calling for is a ride to go [to the hospital]. Our budgets are not going to be broken by picking up - by developing a program, even if we started paying for taxicab rides, that's another question - but we also have services in the community that already provide rides for senior citizens and whatnot.... some of the concerns there are that some of those require 24-hour notice. It might be worth seeing if they could make an exception to those policies for that kind of thing.

I think there's work that we can actually get involved in and encourage other community members to do to relieve some of the concerns we have in the department. They put in place with Freeville a joint response program for during the day. My understanding of what they agreed to with Andy is that Etna would get toned out, and then if they didn't respond within a certain amount of time then Freeville would get toned out.... I don't have enough details to know if that's really feasible; I'd want to look at the numbers a little more clearly, but it seems to me that the vast number of time when Etna is unable to respond during the day, as opposed to waiting for them not to respond, just toning out somebody else... and again the flycar here might be in agreement.

What Steve has asked and Ron has been instrumental in helping us with is trying to coordinate a meeting among the chiefs and involving whoever would be helpful to try to work out some of these and see what we can do... These things aren't just coming up for one of our departments. I think we're also seeing... where the town could benefit from having a consultant or somebody who could really attack a lot of little things that can be done that could have a big impact in terms of relieving some of the burdens on an already stressed volunteers.

I asked Steve for some numbers on the number of calls that they were making... these volunteers are still going on hundreds of calls a year."
Councilman Christofferson asked for an explanation of the numbers. He was concerned that "it looks like the total EMS calls were 66, and 37 of those were no response.... on fire calls, total fire calls, this is for an eight-month period, is 13 fire calls, and there were 7 no response." Councilman Stelick pointed out that motor vehicle crashes are counted as fire calls, and that:
"On the surface these numbers - there's a number of reasons these numbers are the way they are. Sometimes the responses are being done, properly or improperly, in their own personal cars. They're not able to tone out, tell somebody that they've made the call. In a lot of those calls, there were several of them that were DSS issues where they're making, they're going to a trailer park and somebody's needing a ride, like Chris said. You would be amazed... some locations are 80% of the calls."
Councilman Michaels noted that Etna had said the Freeville chief had purchased his own box for toning out on calls to indicate his response in his own vehicle. Freeville had also done work with the school to reduce false alarms.
Michaels suggested that the Etna department still had a core group of volunteers putting out a tremendous amount of effect, and they'd work to address concerns.
Christofferson was concerned about issues arising from Etna's audit earlier this year, asking "the only I thing I would say to look at in the meetings... is that when we got the audits back, there was some concern about who's responsible for all the points, and it might be all kind of like one family that does all the different. There's not a lot of checks and balances... no improprieties, but not a lot of checks and balances." (This reminds me that I forgot to post the Etna audit, though I posted the other audits, which were completed earlier, back in March. I've put it up in more easily readable (380KB PDF) and selectable (470KB PDF) forms.)
Michaels also brought up Etna's equipment, like their recent upgrade of 7 SCBA breathing units while having three people certified to use it. (They have a total of 20 units, but only upgraded 7.)
Steve Stelick summed a lot of things up in a long presentation, which I'll quote as much as I can here. (Transcription is not fun, but given the Journal's quote, I think it's necessary in this case.)
"I came up with a plan...after our meeting Monday night I spoke with Ron a couple of times, once at length.... I came up with a plan to look at this.

First of all, what we have is four fire departments, and I call this an evolutionary track. All of them are on the same track, some further along. The evolution starts with a viable department, and it goes down to where it can't cover calls any longer, which is a recruitment and retainment issue. Then it goes through absorption into existing fire departments and eventually we're talking about the light at the end of the tunnel which is known as a pure paid fire department.

Unfortunately, in Etna's situation they are much further down that track than any of the other departments, and we've absorbed a lot of information from all of these departments in the last three years and each one of them is on that track. They're all going... at different rates. In Etna's situation it's been allowed to fester because we had this 2% rule, where every year they got a contract with a 2% increase and it just continued on. We are partially the cause of this.

So what I've come up with is I've asked Ron... we're going to have a chiefs' meeting. The point of this is cooperation. Every fire chief and every fire department in the Town of Dryden is going to find this issue isn't limited to Etna, it's for everybody that's within the Town of Dryden. We're going to need a commitment from all of those departments.

One of the areas that I've seen that we've turned around is the lack of communication. There's a lot of pride out there and there's not a lot of communication. Since Ron has been in place as the chief at Neptune, we've started to turn that. This next meeting is going to be very frank and open and we'll be discussing problems. There isn't going to be any hiding anything.

The other thing is education. One thing we can learn from... Etna is that we can educate ourselves, the different departments, with what's happening to them, and how to avoid those kinds of problems. And then we can continue to follow up. That's going to happen is through the emergency services committee that we have, and... eventually having somebody in place with more knowledge than we have, working very closely with these guys to try and save this and keep it viable.

One thing I want to make clear is that it's not about money here. I'm not going to the table about who's doing what, who's not doing what, and who's going to get paid what. The issue right now is to cover and make sure there is adequate emergency services coverage. We know that's not the case right now, so I'm going to ask and get from everybody, especially Varna and Freeville... help and commitment.

The flycar is relatively new. It's only been in place about a month. One of the issues is that EMT coverage... that flycar is down there during the day, when we're weakest, so that should help us. We need to get that information out.

As far as recruitment and retainment, I've asked the chiefs of the fire departments... what we need to do is get a plan in place, that they provide, that they figure will work. We can tell them all we want, put money at something that we don't know anything about, but we need them to come up with a plan where recruitment and retainment are going to happen.

Ultimately I see us going down the road. But in the meantime, we'll put that information together, work together with Etna.... What we'll come up with is a temporary situation, a first alarm assignment, automatic mutual aid that will cover those weaknesses that we have currently. That's only a short-term plan. Long term plan is everybody at the table, coming up with ideas. These are the specialists, the people who are the chiefs of these fire departments to come up with something we have to do for the long-term viability of this department.

It's not going to be easy. There are a lot of issues, but the most important thing here is that it's out on the table, instead of what we've had in the past, which was innuendo, anecdotal, back door information is now on the table, and we're looking forward."
Chris Michaels also noted that there are a number of people who "get toned out for two departments, as a way of helping out." Marty Christofferson asked "Weren't there some folks from Etna who went to Varna?" which Varna Chairman Oliver Habicht acknowledged was the case. Christofferson then suggested "there's been some allegiances and some familes," but Chris Michaels argued that "those are interesting anecdotal things, but.. working with the numbers, and here are the responses, here are the times, what's the pattern. We're not trying to assign blame to people. The guys who are at the table are the ones who are showing up, obviously... it's the people that are receiving the services who aren't volunteering."
Councilman Stelick said that "It's there; we've broken the surface. Now we can go in and feel very comfortable. We went in with a lot of trepidation and I feel really good."
Councilman Hattery suggested that it was time to start looking for the emergency services consultant, to general agreement. Councilman Stelick said the chiefs had questions and suggestions, and Councilman Michaels suggested that they work on getting out an RFP (request for proposals).
It's still not certain how the financial end of this will be settled. Councilman Stelick suggested abiding by the planned 2004 contract, while Councilman Christofferson asked to look at actual expenses for the year. Chris Michaels felt more discussion was needed. There was some discussion of Etna's equipment, some of which is recent, and Michaels wanted to see a plan going forward.
Marty Christofferson asked "Does our contract... talk about something like this, where people don't respond to calls, or they don't perform what we expect?" Attorney Mahlon Perkins said "They are to provide fire protection." Christofferson then asked "But if they don't, at least in half the calls..." Michaels pointed out that the town hadn't signed a 2004 contract with Etna. Christofferson then expressed a concern:
"I support the fire departments 110%, and I support the core volunteers who have given all their service and all of their time, and in the worst weather and in the worst everything. But I look as this as if you're contracting with anybody to provide a service. It just doesn't feel right to me that you're going to pay something when you're not getting the service back. I know that you guys are in the middle of trying to make this thing better, and you don't need something to make it worse, so I'll go with you guys on whatever you decide. But it just seems to me that if something was to change drastically in that and we put $200,000 into this department, and then a year from now we kick ourselves in the head for doing that because we wish we had done Plan B, by beefing up Varna, beefing up Freeville, doing something different. I don't know what the solution is, but it seems to me like we might be throwing good money after..."
Michaels and Stelick suggested that the town needs to see where cooperation and communications lead. Christofferson clarified his position, saying that "if you guys came up with a new plan, and you needed a few bucks to make the plan work, there might be resources there."
Stelick hoped that cooperation would lower costs:
"because one of things that I hope to see out of this cooperation is instead of four departments working independently, and we've seen a change in that in working with Ron, we're starting to see globally what needs to be done for the Town of Dryden... I see a savings in that, that that's going to bring everybody to the table, and everybody putting out there saying 'this is what I want' and ultimately the board deciding we need that...or we don't need that. We are getting to that point now and this is a whole new process. There's more accountability from the Town Board. It's going to be slow."
Christofferson suggested associating the plan with the contract. Mike Hattery warned that "if the new contracts don't have more tight performance criteria, we'll be at the same place in 2005." Stelick suggested that the consultant could help with this.
At the end, Chris Michaels suggested that the fire companies might go the direction of Dryden Ambulance, mixing paid and volunteer staff: "adding a little bit of staff can go a long way." He also commended the chiefs for going a long way already.
The board will discuss the Etna contract again in January, after the chiefs' meeting.
Posted by simon at December 12, 2004 5:33 PM in Etna , Freeville , Varna , emergency services , politics (local) , public finance
Note on photos