A Dryden that never came to pass
As the Planning Board comes closer to completing the Draft Comprehensive Plan, it seems like a good time to reflect on the fate of the last plan Dryden did, the 1968 Dryden General Plan. Apparently it was never adopted by the town, but copies of it are available at the Dryden Town Historical Society and Town Hall. (Thanks to Town Clerk Bambi Hollenbeck for letting me borrow one of the copies, as it will take me a while to scan in 230+ pages.)
Unlike the current comprehensive plan effort, which focuses exclusively on the town outside of the villages, this plan included both villages.
For starters, I've scanned in the summary with map that came in a pocket at the back of plan. The map (which scanned in with some color variations) shows proposed zoning for Dryden, as well as some features that never were developed.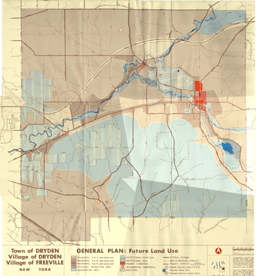 The map from the 1968 Dryden General Plan.
The most notable feature that appears on the map but not on the ground is a Route 13 bypass, starting from where 13 turns southeast near the airport, and reconnecting with the existing 13 at the Cortland County line. Along with the new road, the plan shows a "Possible Regional Shopping Center" at Pinckney and Etna roads.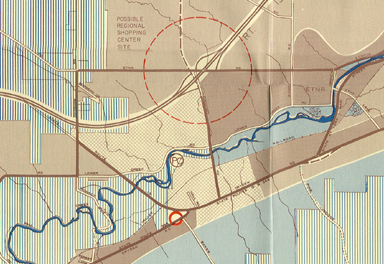 The map from the 1968 Dryden General Plan's extra features near Etna.
TC3 hadn't been established yet, and the plan shows it next to Dryden High School.
So far, I've scanned in the following features:
I'll be scanning in more over the next few weeks. There's a stunning amount of detail - some lot-by-lot - in this plan, even if it didn't prove a great predictor of things to come.
Posted by simon at January 23, 2005 4:27 PM in history , planning and zoning
Note on photos