An hour at the State Capitol
I had to give a presentation yesterday outside of Albany, and drove there in the afternoon. I usually budget an extra hour if I'm driving someplace I'm speaking, and because of the weather, I budgeted two hours. Everything went smoothly, especially once I was past Syracuse, so I got to Albany around 4:00pm, when I was speaking at 6:00pm. I'd wanted to see the State Capitol for a while, so I took the exit for Empire State Plaza and went into its parking garage maze.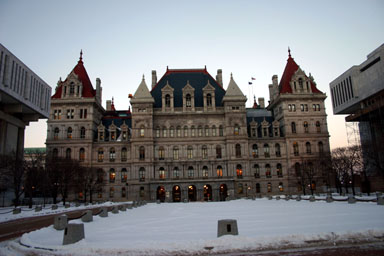 A view of the State Capitol in Albany, yesterday.
The Capitol is definitely a long way from the pictures of Dryden I usually show here, but I think in this case I can make an exception. For better or worse, what happens in this building often has a direct effect on what happens in Dryden. Most of the pictures I took were of the architecture, as the building (especially its staircases) is pretty astonishing.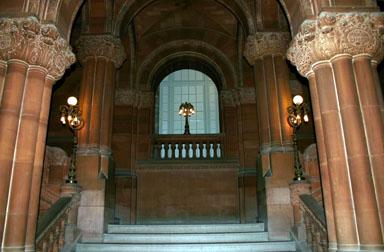 A staircase at the State Capitol.
I arrived as the Assembly was adjourning, so most of the pictures I have are of a few remaining people talking amongst themselves. When I found the entrance to the main chamber, I asked security folks for help, and wound up escorted to the chamber, where the guard, Chuck, took my picture up on the rostrum. He seemed to want to make sure I didn't stop anywhere along the way, notably Majority Leader Sheldon Silver's office. I don't think they knew I'd been handing out copies of the Brennan Center Report, but who knows?
After an hour of wandering, I thought I'd find our local legislators' offices and say hello, though time was running short. Fortunately, I ran into Assemblywoman Barbara Lifton by the elevators of the Legislative Office Building, and she let me take a picture.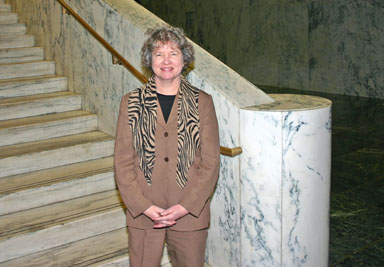 Assemblywoman Barbara Lifton stops for a moment in the Legislative Office Building.
Assemblywoman Lifton gave me directions from the Empire State Plaza parking garage to my next destination, and then I was off into the delights of Albany traffic.
I've posted a lot more pictures in a gallery, if you're interested. Some of them are just architectural details, and some of them are of the very different architecture of Empire State Plaza, but the building is fascinating. It's worth a visit whether or not you like what goes on there.
Posted by simon at January 19, 2005 1:47 PM in New York State , excursions
Note on photos