Historical and Regional Context, circa 1968
Continuing into the body of the 1968 Dryden General Plan, I've scanned the first two sections, an Introduction and Historical and Regional Context. For completeness, I'm including pictures and maps in separate files, as they tend to be enormous: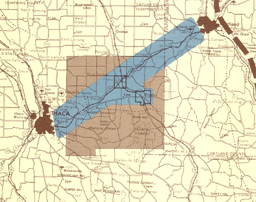 Regional Location: Dryden in the Ithaca-Cortland Corridor, 1968.
The brief history in the Historical and Regional Context (180KB PDF) is excellent, but some of its more current perspectives are especially striking. The Cornell aspect of this story still holds true somewhat, but the excitement over Cortland's industrial growth in the 1960s has since faded:
Dryden and its two villages are again on the upswing of a growth cycle which had a strong surge during the 1950 decade. This event corresponded to a general growth pattern for the surrounding region and especially for those communities close to Cornell University. The University is undoubtedly the force which has produced the greatest single effect on Tompkins County and its towns in this century. It is the resource that has replaced the timber and agricultural economy of the 1800's.

A substantial building program after the Second World War expanded the facilities of the University- and resulted in increased enrollments and an accompanying increase in faculty and staff. University housing policy encourages mobility of students who, along with new faculty and staff, are searching in ever widening perimeters for suitable places to live. This has had a great impact on Dryden and other towns within convenient commuting distance from Cornell. The recent trend toward expansion of graduate schools can be expected to heighten this impact since a greater ratio of faculty and support personnel will be required for graduate programs, and these students will be more likely to prefer family type housing accommodations in the suburbs than will undergraduates.

Another effect of Cornell expansion has been an increase in small university-oriented research and development industries which find it advantageous to use this area as a source of trained personnel, expert consultation and sophisticated research facilities. Without question the economy of the Ithaca area, with higher education at its base, is healthy and growing. Dryden has a key position in this regional development pattern as evidence found throughout this report will testify.

A second regional force which will undoubtedly have increasing direct and secondary effects on Dryden is the industrial complex which is gathering strength in the South Cortland valley. This area has experienced dramatic industrial development during this decade which shows no signs of tapering off. Even though this complex is in Cortland County and traditionally has had greater impact on the City of Cortland and other areas located to the east and north, it seems reasonable to assume that Dryden will become the place of residence of an increasing number of employees from this work center.

Plans to rebuild Route 13 as part of the Appalachian highway and New York's expressway system will tie the Ithaca growth center to the industrial complex in Cortland County with a controlled access, high speed highway. This type of improved transportation facility will greatly ease commuting and further enhance Dryden as an extremely desirable residential community. It will probably also make it attractive as an area for limited types of industrial and commercial activity.

It is apparent that Dryden is in the center of a polarized regional development picture. Forces for change will come from both the east and the west and could result in substantial changes in Dryden's physical environment and economic structure. The physical environment is the primary concern of this report and the plan which has been developed to guide change in the years ahead is based on an assessment of potential and the consideration of alternate ways by which this potential can be transformed into a pleasant and efficient community structure.
The changes to Route 13, shown on yesterday's map, were never completed, except for the stretch from Ithaca to Lansing that I refer to as "Ithaca's practice highway." Dryden has remained more isolated than these planners expected, and the industrial development to the northeast faded. Today's plan strikes much more cautious notes, seeing changes other than population affecting planning:
Although the population growth of the town between 1990 and 2000 was relatively small at 281 persons, the average growth per decade since 1960 has been about 1,540 persons. While the town's population has grown, however, the average size of households has shrunk. According to the Decennial Census of Population and Housing, the average size of a household in the Town of Dryden was 2.43 persons in 2000, a decrease in size from 2.47 in 1990. This trend in the declining size of households dates from the 1960s, when the average household size in the town was 3.39 persons. (38)
Posted by simon at January 24, 2005 5:37 PM in demographics , history , planning and zoning
Note on photos