Land use in Etna and the Town, 1966
After the introductory material on land use patterns, the 1968 General Plan goes into one of my favorite features: a building-by-building survey of the Town as a whole, with additional maps for Etna, Freeville, and Dryden.
The map for the Town as a whole includes some very tiny type, so I had to scan it at a higher resolution, producing a bigger file. This sample, at the western intersection of Routes 13 and 366, gives you some idea what it looks like: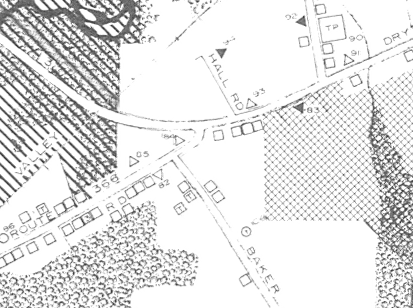 A piece of the map of Town of Dryden Land Use from the 1968 Dryden General Plan.
There's also a list of numbered buildings corresponding to the numbers on the map - #84, where Treeforms is now, is "Commercial (radio & t.v. sales & repair)", while #85 next to it is "Commercial (Boxcar) restaurant". Note that Wilcox Press wasn't there yet. You can get a pretty detailed idea of what was here (and what wasn't) in 1966, the year the field survey was done.
The Etna map doesn't come with a list of places, probably because the few non-residential locations are identified on the town map.
Posted by simon at January 30, 2005 10:35 AM in Etna , history , planning and zoning
Note on photos