Interior trim installed
The last step in the professional work we're having done to our livingroom is complete: carpenters came yesterday from Perfect Painters/Heritage Builders and installed crown and shoe molding. Will and Luke transformed the look of the room in less than a day of work.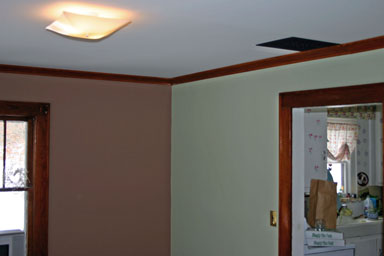 Livingroom, painted, with trim.
The new trim, like the old trim, is pine finished with amber shellac. The crown molding was made at Danby Hardwoods, from a pattern in Shop Drawings for Craftsman Interiors. Ken from Perfect Painters stained it to match the orange of the old pine trim we have. I still have a lot of work to do cleaning up our old existing trim, but it's good to have the room's (re-)construction completed. As I did for the earlier painting, I've put up a gallery of pictures showing the work being done. The first few images are the trim before it was stained and finished, then the installation, then the results.
Posted by simon at February 23, 2005 12:19 PM in my house
Note on photos