Lifton's Town Hall meeting
Now that I've vented my general concerns about New York State politics, it would probably be wise to report on what Assemblywoman Barbara Lifton actually had to say.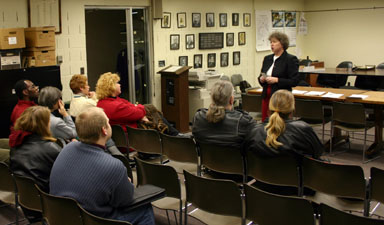 Assemblywoman Barbara Lifton talks at Dryden Town Hall.
A lot of what Lifton had to say boiled down to a simple story but a difficult problem. New York State faces a combination of fiscal difficulties that make it hard to do the things we'd like to do. The federal government has lost its taste for progressive taxation and is trying to reduce its overall contribution to the states. As the federal government's role has shrunk, states have found themselves competing more directly with each other while seeing reduced money coming in from the federal government. New York adds to this formula a governor who wants to avoid tax increases at any cost, and who has taken to using the budget to change state law. The Court of Appeals has ruled that the governor's use of budgets in this fashion is legal, so it looks like we'll be facing more conflicts between the legislature and the governor as the stakes of the discussion increase. Recent court decisions on state education spending (or the lack of it) in New York City make the stakes even higher, as the state has to look for a few extra billion dollars.
This set of conflicts doesn't play out strictly on party lines, though party sometimes matters. The Senate and the Assembly alternate between working together against the governor (as in the case about the budget they just lost) and working on party (or more complicated) lines. Lifton talked about cases where the two houses work together and cases where they don't. It was clear she was happy about cases where she had a Senate co-sponsor on bills she was sponsoring.
A few of the budget cuts Lifton discussed especially distressed her. Pataki's budget cuts $85 million from SUNY, and that $85 million arrives at SUNY through tuition increases. The Tuition Assistance Program (TAP) is facing a 50% cut. (Update: I think this refers to the half-now, half-after graduation formula the governor is pushing through in budget language.) Medicaid continues to be a tough problem, especially as Medicaid provides a foundation to what Lifton described as a health system that's becoming more and more of a two-tier system. Medicaid funding keeps a lot of hospitals functioning, and the latest proposed cuts have set off alarm bells across the state.
Lifton noted that "reform is now the most abused word in the language," as Medicaid 'reform' in the state is a questionable reform. Pushing my own interests in procedural reform, I asked a long-winded question (echoing my earlier piece) about whether New York residents had any hope of seeing New York State government act like a democracy rather than three men in a room. Lifton had some fairly hopeful-sounding suggestions, including that she had taken a look at gerrymandering and the prospect of legislative redistricting and was considering supporting Assemblyman Richard Brodsky's proposal of redistricting and a constitutional convention. Lifton also discussed her hopes for budget reform, which the governor vetoed but which can come to pass through another passage and a referendum.
Dryden resident Nancy Munkenbeck asked Lifton about the Help America Vote Act (HAVA) and New York's slow movement toward a new voting machine system. Lifton expressed concerns that the Senate, while accomodating a list of IDs proposed by the Assembly, insisted on limiting the list so that new forms of ID would require new legislation, but did say that voting systems with a paper trail had supporters in both houses. Figuring out how that will work - one system for the entire state, or different systems for different counties - remains to be sorted out.
I asked Lifton about bills she's sponsoring, and she was particularly excited about a few of them:
A bill which would support a training initiative for rural elderly healthcare, using Ithaca College for a demonstration.
A bill which would let voters over the age of 62 receive an absentee ballot without further proof of medical cause.
A bill which would support nursing home beds in assisted living facilities with close ties to educational instutition to make it easier for those attending courses to avoid disruptions in the learning process. (Senator Jim Seward is apparently co-sponsoring this in the Senate.)
Lifton noted that she had some law interns from Cornell working on other potential legislation, focused on economic development and possibly bookstores.
One other piece I particularly remember was her description of the 67-page long school aid formula, while the Midstate School Finance Consortium is offering a formula that's only three pages long and much more comprehensible.
Posted by simon at February 27, 2005 8:00 PM in politics (state)
Note on photos