Cornell perspective on Mount Pleasant wind farm
Lanny Joyce, Manager of Engineering, Planning, and Energy Management in Cornell's Utilities Department and a member of the Kyoto Task Team, presented at the Tompkins County Environmental Management Council meeting last Wednesday after residents spoke at the beginning of the meeting.
Joyce's perspective was rather different than the other attendees speaking. He discussed the $4 million Cornell has spent so far on conservation efforts on campus including a million square foot lighting retrofit, but given trends of growth on campus, the "bottom line is that our energy use will go up." Cornell purchases 85% of its energy, and generates 15% - 13% co-generated from the heating plant, and 2% generated by hydroelectric on Fall Creek.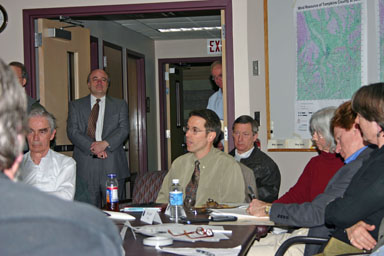 Lanny Joyce of Cornell speaks on windfarms, while County Legislator Mike Lane and others listen.
Cornell, driven in part by its Kyoto Now group, is looking for additional ways to reduce its carbon dioxide generation, aiming to reduce its carbon dioxide to 7% below its 1990 production by 2008. While they could buy wind credits for energy, Cornell sees that as "just a cash expense," and the University also turned down a proposed "green endowment" to pay for that, though students are setting up their own endownment.
Last spring, students asked the University to do a survey of wind power. The University picked a circle of 15 miles around the campus, plus the Arnot Forest. Dawes Hill, Connecticut Hill, Yellow Barn Hill, and Mount Pleasant were all considered, though Mount Pleasant had some key advantages in being mostly deforested, already owned by Cornell, and close to campus. There were also some problems, because Mount Pleasant has residents, a radio tower, is on the approach path for the airport, and has lots of birds.
The Cornell Daily Sun reported that Mount Pleasant was under consideration for wind power, which started some speculation, but Cornell only began discussing its plans recently, and their hope for generating 10-12% of campus energy with wind power with up to eight generators on Mount Pleasant.
The Cornell Lab of Ornithology is doing a study of bird and bat migrations over Mount Pleasant, doing bioacoustic studies in addition to the usual radar that will help them determine which species of birds and bats are flying there.
Joyce briefly discussed the neighborhood meeting at the Varna Community Center, saying that while "it was a strong meeting in terms of emotion and opinion and strongly negative in its tenor," "the reality is that there's going to be a lot of wind energy in the state." He expected wind generation to grow from 50 megawatts today to 3000 by 2010, given Governor Pataki's push for New York to use more renewable energy. The Fenner wind farm has 27 wind mills now, and a report in the Syracuse Post-Standard suggests 35 more are coming.
Joyce also mentioned the rents on wind turbines, including those paid to counties and to school districts, saying that Fenner contributes $150,000 annually, split between the town and the school.
Next, I'll cover the lengthy question-and-answer session Mr. Joyce had with the EMC and the public.
If you want more on windmills today, I found a couple of articles on this at the Cornell Daily Sun. The March 17th issue includes "Cornell Studies Pros, Cons to Wind Power", while the April 15th issue includes "Inherit the Breeze", an opinion piece in which student Danny Pearlstein says "I am no longer an unabashed supporter of tapping Mount Pleasant."
Posted by simon at April 21, 2005 10:45 PM in Cornell , Mount Pleasant , energy
Note on photos