Flooding in Dryden
Local firefighters had a challenging Saturday as 2.5 inches of rain landing on saturated ground caused flooding around the area. I noticed Route 366 had some water coming across the road as the ditch on the south side of the road overflowed around 5:00pm, and the Journal has a picture of Route 13 northbound being closed between Route 366 and Etna Lane because of a blocked culvert. Fall Creek Road, West Malloryville Road, and Gulf Hill Road all had sections closed over Saturday night, and McLean firefighters opened a command center at their fire station.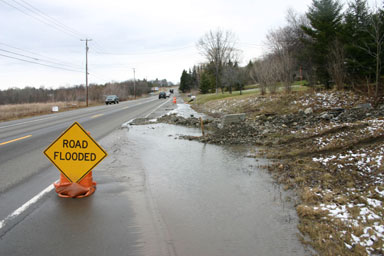 Flood damage at a blocked culvert, Route 13 near Etna.
Neptune Hose Company Chief Ron Flynn is quoted as saying:
"We've probably pumped about 22 basements since yesterday. Property damage-wise, some of the basements were finished basements so there's property damage there."
It sounds like Cortland County had even more problems, especially around the Tioughnioga River. NYSEG cut off gas service to part of the City of Cortland because of high water.
Freeville resident Pearl Mellberg is quoted in an article about the antique sale at the Rose Inn in Lansing, which burned last year. Mellberg tells the Journal, ""It's synonymous with this area... My husband and I have eaten here, and we've been to a wedding reception here."
Posted by simon at April 4, 2005 8:32 AM in Ithaca Journal , emergency services , roads, traffic, and transit , weather
Note on photos