Garden plots on Freese Road
I finally figured out how the garden on Freese Road works after a few years of driving by it. It wasn't hard - there are posters around the area - but it's nice to know. If you want a garden plot, you can register now.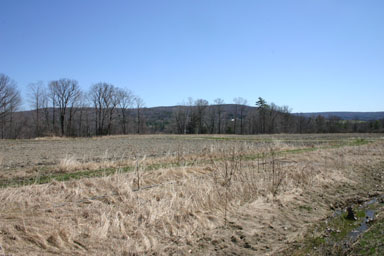 Garden plots along Freese Road awaiting gardeners
If the picture above is a little too daunting, the Cornell Garden Plot Committee has pictures of blooming gardens. The plots are on the eastern side of Freese Road, near Hanshaw Road and Cornell's Dyce Bee Lab.
The plots are 20' x 25', are already plowed and disked, have water available, and cost $15.00 to rent. The plots are distributed at a meeting to be held on April 30th from 9:30am to 11:00am at 107 Stimson Hall on the Cornell campus. To reserve a number for choosing a plot, send a self-addressed stamped envelope including your name, the number of plots you want, your phone number, and your email address to Cornell Garden Plots, PO Box 871, Ithaca, NY 14851.
Posted by simon at April 11, 2005 7:52 PM in Hanshaw Road
Note on photos