Dryden Democrats Adopt-a-Highway
After the strong Democratic performance in last year's election, and with Democratic voter registration passing Republican registration in the Town last year (currently 2979 D - 2791 R), the Dryden Democrats wanted to do something to increase our visibility. We have a number of projects under way, but one just became visible this morning: we've adopted a highway.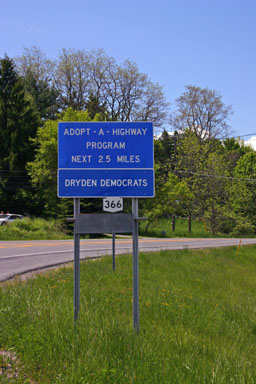 Dryden Democrats adopt a highway: Route 366 between Route 13 and Varna.
We had tried to get a highway last December, but they were all taken. About a month ago I noticed the signs were down on this stretch of highway, so we applied for it. We'll be getting our orange helmets and vests tomorrow, and will start cleaning up in early June. (One note for anyone interested in doing this: Tompkins County doesn't allow partisan organizations to participate in its Adopt-a-Highway program, but New York State does.)
Update: Since I posted that photo, the DOT realized that this stretch of highway is 1.5 miles long, and changed the sign accordingly.
Posted by simon at May 31, 2005 12:10 PM in politics (local)
Note on photos