George Junior workers rally
When I last visited SEIU Local 200United, they were just getting started with negotiations for George Junior Republic direct care workers and sounded optimistic. It doesn't seem to have worked out as well as they'd hoped. Today, SEIU Local 200United and its supporters held a rally today at George Junior Republic in advance of voting on management's "last and final" contract offer, which the union is encouraging its more than 200 members to reject.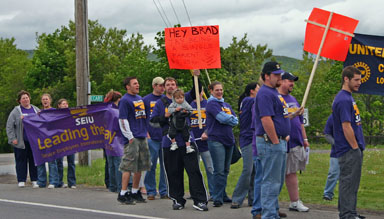 Union members emphasize family, living wage.

The rally stretches along the road.
The SEIU press release (76KB PDF) offers more detail on the state of negotiations:
"The unfairness of management's offer is the low increases compounded by the agency's demand that our members absorb an additional 5% of their health insurance premium," said Keith. Under the current proposal, the average George Junior worker, currently earning $8.90 per hour, will be earning $9.10 and paying $69 per month for individual health insurance. "Add in the co-pay for dental and our average member is below the Tompkins County living wage," said Local 200United's Chairman, Bob Lucas. "In fact, many of our members with families are at the poverty rate."

Substandard wages and benefits translate into higher employee turnover. In turn, these direct-care workers aren't able to develop sustained relationships with the agency's clients, many of whom come to George Junior froin broken homes and otherwise dysfunctional families.
The poster describes the union's position, emphasizing that they are not asking for authorization to strike, just a rejection of management's current proposal. Voting will take place at the Dryden VFW this afternoon and tomorrow morning.
I've also posted a gallery of images from the rally.
Posted by simon at May 25, 2005 12:33 PM in labor , schools (other)
Note on photos