Signs of history
Marilyn Adriance explained the historical markers of the Town of Dryden to an appreciative audience at Village Hall last night, in a program presented by the Dryden Town Historical Society.
Adriance had a table of documents and information, as well as a handout with the text of the state signs (58KB PDF or 104KB selectable). The handout made it easy to follow along, and gave attendees a reminder of what they'd seen.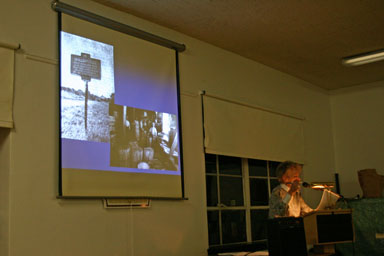 Marilyn Adriance talks about Malloryville's past.
Adriance started with the history of the roadside marker program, when the state started celebrating the 150th anniversary of the Declaration of Independence by posting markers. Markers cost communities $2.00, and the state picked up the rest until 1939. The state Department of Education stayed involved through the 1960s, but now the state just does the oversized markers at Thruway rest areas and similar places. Want to put up a marker today? It's around $700.
Most of the markers Adriance discussed were put up by the state in that early period, though some have moved or disappeared. She explored the Underground Railroad markers in the Etna area on Lower Creek, and then the various signs about the Bridle Road or First Road, cut from Oxford across to Ithaca (after a detour through Ludlowville) in 1792-5.
Adriance also talked about the Malloryville signs, one of which is still there, the John McGraw and John Miller signs on Irish Settlement, the signs for "Daddy" George near Asbury Road, the Baptist Church sign at Etna Community Church, the Indian Camp sign at Dryden (no longer near the camp!) and a sign listed as Dryden but just across the line in Peruville, about Charles Sanders, an early writer of textbooks.
Adriance also talked about the sign for the historic district in the Village of Dryden. She'd been trying to track down when it went up, and the Village had some records from 1992. County Legislator Mike Lane and Gina Prentiss confirmed the date and told the story of applying for grants and posting the sign.
If you missed it, the transcript will be at the History House in a few weeks, so you can still stop in and learn.
Posted by simon at November 17, 2005 6:43 PM in history
Note on photos