A wintry Victorian Winter Festival
The Village of Dryden's Victorian Winter Festival ran from Friday at 3:00pm to yesterday at 4:00pm, with a wide variety of different events. I started out at the History House, then visited the Southworth Library and Googers, wandered down Main Street to Time Square, and then came back up to the Candlelight Inn's Christmas Shoppes.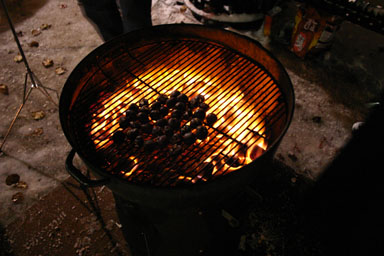 Back to Basics roasts chestnuts at Time Square.
Beyond Measure was singing in front of Bailey Insurance, and then I waited for Santa's arrival at the Village Green to help light the tree.
The next morning, I had a job to do, helping Gina Prentiss talk about the historic district's history and architecture on the horse & cart history tour. (I also learned a lot from Mike Lane, who took the first ride.) While it was cold, people still seemed happy to brave the weather for a ride on the cart pulled by Tom and Debbie Crane's Belgians from Hollows End Stables. (Tom was driving.)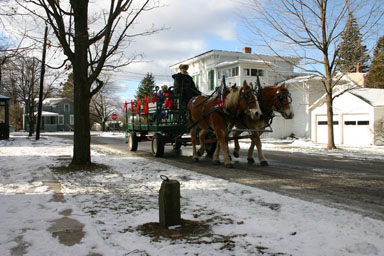 A horse & wagon history tour rolls down Union Street.
I managed to sneak off the cart long enough to get a picture of the Four Corners barbershop quartet performing, and when my time on the cart was complete I went over to Dryden Middle School to visit Santa's Secret Workshop, which was very busy.
I also stopped back at the History House, which had quite a staff. Finally, I went to the reception at Neptune Hose Company, which had food, activities, prizes, and Santa Claus once again.
(I love that Dryden has a consistent Santa Claus. It's also strange to go from Santa to Santa and see him change drastically!)
I've taken a lot more pictures, if you're interested.
Posted by simon at December 4, 2005 6:12 PM in Village of Dryden , photos
Note on photos