Approval for TC3 bonds
This morning's Ithaca Journal reports that the TC3 Foundation received approval for $7 million of tax-exempt bonds for building a dormitory. The article notes that the project received Town Board approval - though only for phase one - on Thursday night.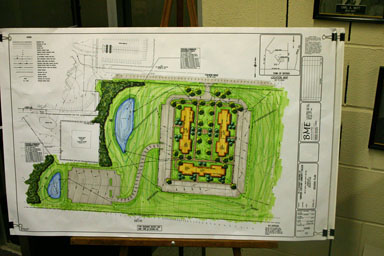 Full plan for three dormitories.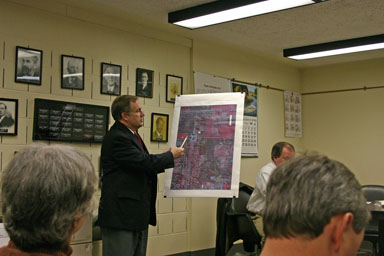 Dean of College Services Bob Ross points out the dormitory location on a satellite photo.
In other IDA news, County Legislator Mike Lane isn't thrilled with a decision to make a tax exemption in Ithaca variable:
IDA Chairman Michael Lane, however, noted the developers had long insisted that the project would fall through without the original abatement schedule, only to agree to a revision as soon as they realized they didn't have enough votes on the board. Lane, who also would have voted against the original schedule last week, raised concern on Friday that the agency would come to developers' aid, bumping up abatements, if they have a bad year.

"I don't think it's our job to be a partner," Lane said.
Briefly in Tompkins notes that the Etna Community Church (map) will be having a Women's Victorian Christmas for women and girls from 2:00pm to 3:30pm tomorrow. Contact Judy Auble-Zazzara to make a reservation.
Posted by simon at December 10, 2005 9:53 AM in Etna , Ithaca Journal , TC3
Note on photos