Getting ready for cold
This morning's Ithaca Journal looks at ways to reduce energy costs, and visits a Cooperative Extension class on fixing up older windows that I attended earlier this week. Mark Pierce explained that the best ways to save energy are to seal up air leaks, improve insulation, and update heating systems. Fixing older windows and putting storms on them makes a lot more sense than replacing them.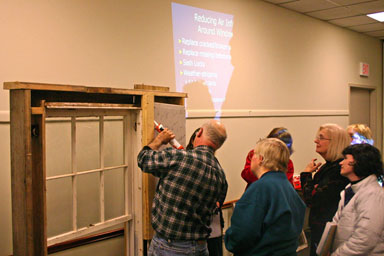 Mark Pierce showing how to to caulk leaks around window casings.
In related news, NYSEG says natural gas customers should call them if they can't afford their energy bill.
Posted by simon at December 17, 2005 1:57 PM in Ithaca Journal , energy
Note on photos