Stone Travel opens for business
In what I'm guessing will be the first of a series of grand openings for businesses near the 13/366 intersection, Stone Travel held a ribbon-cutting ceremony today to mark the opening of its new office at 1284 Dryden Road, at the intersection of Route 366 and Baker Hill Road. Jean McPheeters and Doug Levine of the Tompkins County Chamber of Commerce came up for the ceremony.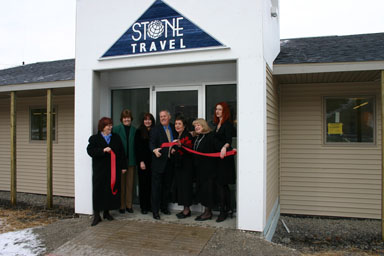 Ribbon cutting at Stone Travel.
The new office is a former state police barracks, which received some heavy remodeling. There weren't any cells to remove - owner David Moore reported the most exciting thing was some closets with shotgun racks - but they did tear down the interior, add "elephant" insulation, put up new interior walls, and add a tower to the front of the building.
In reception - and apparently just installed this morning - a fountain runs continuously. Moore said that they went looking for companies that make these fountains, and found a fabricator in Ithaca.
They're still moving in from their Community Corners location, but they're definitely open for business.
Posted by simon at January 24, 2006 12:28 PM in Route 13/366
Note on photos