Civil War effects
Civil War researcher and re-enactor filled Village Hall with an enthusiastic crowd of listeners on Tuesday night, many of whom had brought in their own artifacts to share.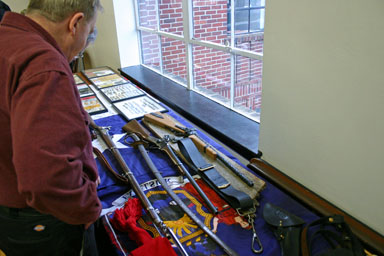 A visitor examines guns from Canfield's collection.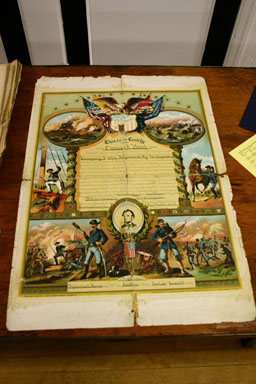 Grand Army of the Republic (GAR) discharge papers for Thomas Burch, brought in by a descendant.
Canfield described the size and structure of the Civil War armies, noting, for instance, that companies were composed of men who knew each other from home, a key reason they held together under heavy fire. He talked about the impact these enormous armies had on the territories they visited, even outside of battles, and how ever-increasing prices for supplies helped Dryden in that period while devastating the areas in which the armies foraged.
One aspect I especially liked was Canfield's comparison of Dryden with a town of similar size, Winchester, Virginia, which changed hands repeatedly - anywhere from 14 times to 100 times, depending on how you count. Dryden was lucky to be safely out of the battle areas, waiting for its noon coaches from Cortland and Ithaca to bring it news of events.
After the main presentation, he talked about the many items he had brought and took questions from the audience.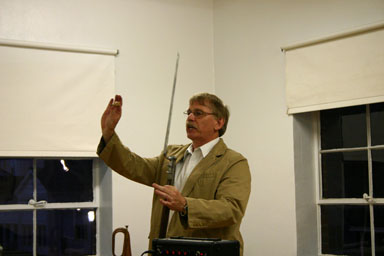 Tom Canfield demonstrates loading a Civil War rifle.
One of the items he had was a ledger from Cortlandville, whose owner wrote in 1866 of some furniture he had bought from the Lincoln family after the president's assassination. There may yet be some very valuable chairs in the area!
If you'd like to see more, I've posted a gallery.
Posted by simon at April 28, 2006 10:03 AM in history
Note on photos