Planting an apple orchard
The main reason I had trees cut down last week was to increase the amount of sunlight my yard received to make it easier to grow things. This past weekend and Tuesday evening my girlfriend Angelika and I put ten apple trees, plus gooseberries, black currants, and clover groundcover, into about 850 square feet of what had been my front yard.
The apple trees were plants she had grafted in a class at Cornell, using a dwarfing B9 rootstock with some heirloom apple varieties (Holstein Cox and Hudson's Golden Gem) as well as Sansa, a Japanese variety. She also grafted a few in my kitchen, and we kept those in pots in the basement with wet bark mulch for soil. (We didn't expect them all to have successful grafts, but so far, so good.)
She took a soil sample from the orchard area to Cooperative Extension for testing, and the results (121KB PDF) weren't exactly ideal. My soil is extremely acidic, low in phosphorus and potassium, and rich only in nitrogen. Cooperative Extension proposed adding lime, phosphate, and potash, which we did this weekend, along with 10 cubic yards of compost. Spreading that wasn't so bad, but then we needed to turn it into the soil, breaking the old grass and mixing the new material with the old.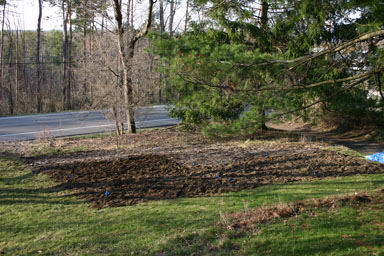 The orchard space, half turned.
Fortunately, the top few inches of the soil weren't that rocky, but it took me a while to learn that I didn't need to dig that deeply for this, and I was pretty wiped out. Angelika, who does plenty of this for work, did a lot better than I did.
The gooseberries and currants came from St. Lawrence Nurseries up in Potsdam on Tuesday. I especially like that they focus on plants for northern climates. We turned the last of the plot, and focused on planting and watering in the trees and shrubs. Then I made hardware fabric cages for the trees, and spread clover for ground cover.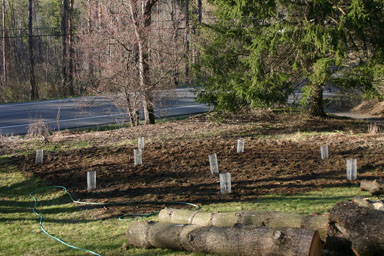 The orchard space, completed, for now.
It looks pretty strange now, but there should be fruit there in a few years. The trees are very small now, and will be dwarfs even when fully grown, but there should be lots of fruit in 3-5 years, with the trees hopefully lasting 20. I'm also looking forward to the gooseberries and currants. A quince tree just arrived today and we'll be adding that to the mix here too. We'll be integrating all of this more deeply with the permaculture plans for the house over time, and I need to think about deer fencing.
I've also posted a gallery of orchard construction photos, this time with meaningful captions. (And yes, I was helping when I wasn't behind the camera. Really.) Posted by simon at April 20, 2006 9:55 PM in my house , permaculture
Note on photos