Yep, it's spring
It's been bright and sunny, but every time I've gone into downtown Ithaca I've noticed that it seems to be a week ahead of us for flowers. Today looks pretty nice, though!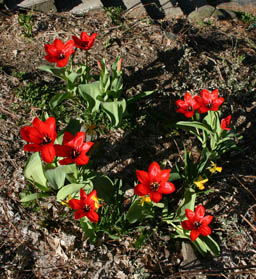 Tulips and daffodils bursting onto the scene
This reminds me. I've been looking at USDA zone maps lately and wondering whether Tompkins County - at least its eastern side - is in a cold spot within the state. On a detail map of New York State zones, we're in zone 5a, the colder side of zone 5, despite being almost surrounded by 5b, which is warmer. On a 2003 map of possibly revised zones (Warning - 5.7MB PDF!), we're a green spot of zone 5 completely surrounded by zone 6.
If anyone has an explanation, I'd be curious.
Posted by simon at April 20, 2006 12:42 PM in my house , photos , weather
Note on photos