Better Housing presents, collects ideas
Better Housing for Tompkins County gave a presentation on Tuesday night in Etna looking at housing issues, and the challenges of creating housing people can afford in Tompkins County. Turnout was light - there were three attendees and three Better Housing folks - but it included a lot of back and forth, and I think the conversation was useful both for the attendees and for Better Housing.
They started with a quiz on the challenges of housing locally and the effects that housing has on people and the community. Then they gave a presentation which explored some of those questions, and then it got more complicated: they asked us for our concerns about affordable housing, and then asked us what would ease those concerns.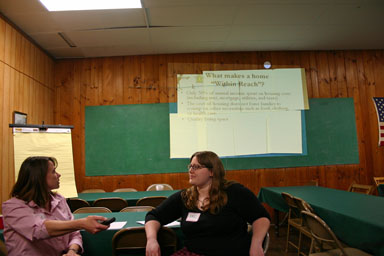 Stacey Crawford and Abi Munro present on affordable housing.
The three concerns we came up with were 'traffic', 'density,' and 'intended use/residents'. After a lot of discussion it seemed that we came to a few conclusions:
Some problems - like traffic, drainage, and sewage - can be helped by planning and design of roads, transit, and related systems.

Some problems relate to who will be living there. Senior citizens, for instance, are much less likely to be rowdy than younger residents.

The degree of the property owner's involvement is crucial. If a property is owner-occupied, the owner has a stake in the property, and seems less likely to cause problems. A good landlord who is actively involved in managing the property can similarly help. An absentee landlord is the worst of all possible situations, as they just take money out of the property while putting as little as possible in, and don't pay much attention to their tenants. (And to make things more complicated, a good landlord can sell to an absentee landlord and vice-versa.)
It was a good evening. They'll be having another of these meetings on Thursday, May 25th, also from 6:00pm to 7:30pm, at the Dryden Town Hall (map).
Posted by simon at May 13, 2006 10:07 AM in planning and zoning
Note on photos