Full house at Historic District presentation
The Dryden Town Historical Society filled the second floor of Dryden Village Hall last night for its 25th annual meeting. After elections for trustees, Bob Watros introduced a new Historical Society publication, More than Names in Bronze, which looks at the lives of the men from Dryden who went to World War II and died while fighting it.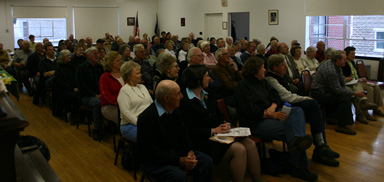 Crowd at historical society event.
The main presentation looked at the houses in the Village of Dryden which are on the National Register of Historic Places, both in the district in the southeast corner of the village and the seven buildings listed separately. Architect Elise Johnson-Schmidt, who as an architecture student had participated in the amazingly detailed 1983 Survey of the Village of Dryden and drawn its illustrations, spoke both about that experience and about her current and past work with historic preservation and the New York State Register.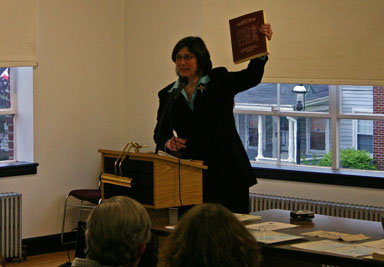 Corning architect Elise Johnson-Schmidt shows off the village architectural survey.
Next, Gina Prentiss presented each of the houses, calling on owners if they were present and taking comments and questions on houses from Johnson-Schmidt and the audience. There aren't a lot of 'just plain houses' in the area - every house had a story or a detail of some kind.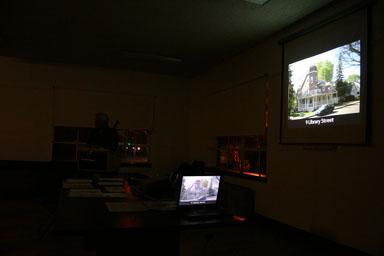 Gina Prentiss talks about 9 Library Street.
I was amazed to see that room fill for a discussion of old houses. Johnson-Schmidt doubted she would have had that size crowd in Corning, with its 11,000 people, and it's very clear that Dryden residents are interested in the buildings we've inherited from the past.
Posted by simon at May 23, 2006 9:59 PM in Village of Dryden , history
Note on photos