Tick warning
I don't normally use my own medical adventures for this site, but today seems like a worthy exception.
It's apparently an excellent year for ticks.
I removed a tick from my dog Spring a couple of weeks ago, and was horrified this morning to find I had a tick on my chest, apparently feasting. Worse, it looked to be a deer tick, the kind that carries Lyme Disease. I attempted to get it to retreat by smothering it in Vaseline, but apparently it just died.
So, off I went to the Cayuga Medical Center's Convenient Care...
(Note: Picture in the extended entry - no need to scare people on the main page.)
where they removed the tick and gave me instructions (113KB PDF) and a prescription for Doxycycline, just in case the tick had in fact given me Lyme Disease. They don't think it likely, as the tick hadn't been on there very long, but just in case, I took the stuff. I was apparently the second tick removal of the morning.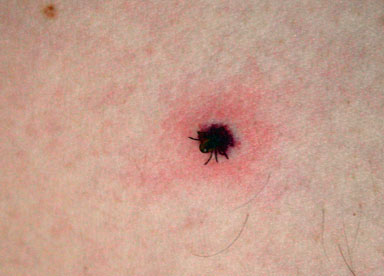 Unwelcome visitor - a deer tick.
I guess the mild winter may have given ticks a boost. I strongly encourage anyone working in tall grass or forest edges to watch closely for these things, as the removal process, though the doctor seemed great, wasn't exactly pleasant. (Novocaine helped, but the shot itself wasn't fun, and it doesn't feel great now.)
Posted by simon at May 5, 2006 4:25 PM in health
Note on photos